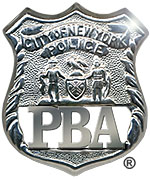 PRESS RELEASE
June 8, 2014
---
PBA seeks equal disability for Officer Rosa Rodriguez and all in Tier 3; Calls on Council Speaker to vote.

HONORING OUR MORAL OBLIGATION
Calling legislation to equalize disability benefits for police officers "a moral obligation," PBA president Patrick J. Lynch has written to City Council Speaker, Melissa Mark-Viverito, to bring a home rule message before the full council for a vote as a first step towards passing state legislation that will provide the same disability protection for NYC police officers seriously injured in the line of duty that is given to every other police officer in the State of New York.
PBA president Patrick J. Lynch said:
"It is truly ironic that the police officers who walk what is arguably the toughest beat in America have the absolute worst disability protection in New York State.  While we have been working to correct this injustice, the serious injury of Police Officer Rosa Rodriguez, who suffered severe lung damage responding to an arson fire that killed her partner, Dennis Guerra, has served to highlight this outrage.  Should she be unable to return to duty and is retired with a line of duty disability, the city will support her sacrifice with about $24,000 a year which is less than the proposed minimum wage being considered by the council.  Equalizing the disability benefits between Tier 2 and 3 is a matter of basic fairness. The city has a moral obligation to support those who are seriously injured in the service of this city, regardless of the cost.  How can this city in good conscience expect these officers to put themselves in harm's way knowing their disability support is inadequate?  This is a gross injustice that must be rectified and the first step is for the City Council to support the home rule message so that we can seek legislation in Albany.  There is no time to waste."
To date, City Council members Elizabeth Crowley, Paul A. Vallone, Rory Lancman, Tony Avella, Costa Constantinides, Annabel Palma, Vincent Gentile, Ritchie Torres, Peter A. Koo, Mark Treygar, David Greenfield, Chaim Deutsch, I. Daneek Miller and Eric Ulrich have called for the Speaker to support the home rule message.  State Senator Diane Savino supports the bill and Public Advocate Letitia James has written to Governor Andrew Cuomo calling for the equalization of disability benefits to Tier 2 levels for police officers and firefighters.  
Click here for a PDF copy of Lynch's letter.