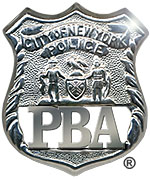 PRESS RELEASE
May 1, 2014
---
State Board finds City/PBA contract negotiations are at an impasse
The State's Public Employment Relations Board (PERB) which is empowered to facilitate the resolution of contract disputes between the city and the NYC Patrolmen's Benevolent Association (PBA) today informed the union that is has granted its declaration of impasse. PERB has appointed a mediator to assist the parties to reach an accord.

Three of the PBA's last four contracts were decided by PERB in binding arbitration and the last contract, which lasted for four years and expired on August 1, 2010, was achieved through negotiations between the Bloomberg administration and the PBA.

PBA president Patrick J. Lynch said:
"We are pleased that PERB has recognized the need to appoint a mediator to facilitate meaningful negotiations between the parties. Our officers are already among the lowest paid big-city police officers in the country. Now the city wants us to take another three years with no raise and that is simply unacceptable.  We look forward to participating in good faith in non-binding mediation in the hopes of achieving an agreement."