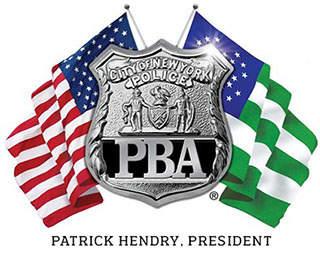 PRESS RELEASE
September 3, 2015
---
PBA presents Governor Cuomo with "Man of the Year" award
PBA President Lynch said: 
"Governor Cuomo has shown a resolute commitment to meeting the needs of the NYPD and other law enforcement officials throughout his career, first as an Assistant District Attorney, later as Attorney General, and now as Governor," said Patrick Lynch.  "Andrew Cuomo has been a steadfast friend and ally of the NYPD and our partners for decades — through the good times and the bad — and that's why I am honored to present him with the 'Man of the Year' award."
Governor Cuomo said: 
"The officers of the New York City Police Department patrol some of the most complicated and diverse terrain in the nation, and I have the greatest respect for what they do. It takes enormous courage to run headlong into danger when every natural instinct is telling you to turn and run the other way to protect yourself. The men and women of the NYPD put their lives on the line to enforce the law and keep New Yorkers safe, and I am proud to be a supporter of the City's finest."
# # #The Police Benevolent Association of the City of New York (PBA) is the largest municipal police union in the nation and represents nearly 50,000 active and retired NYC police officers.