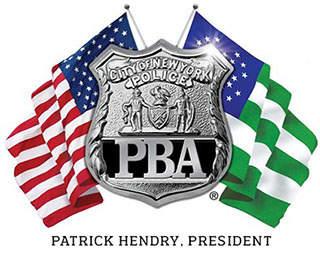 PRESS RELEASE
April 13, 2015
---
PBA President criticizes CCRB for its reluctance to require the swearing of complaints against Police Officers
PBA President Patrick J. Lynch criticized the CCRB board's reluctance to enact a proposed rule change at their April 8th meeting that would require complainants to swear to the truth of their allegations under penalty of perjury during the investigation process.  In a letter to the board chairman, he noted that just the filing of a baseless accusation against an officer has severe repercussions on the unjustly accused officer's career.  Lynch said that while the proposed rule change "is a step toward leveling the playing field," the board should go further by requiring complaints to be sworn before they are even accepted for filing, in order to ensure that the board acts "fairly and independently, and in a manner in which the public and the police department have confidence," as is required by the City Charter.
PBA president Patrick J. Lynch said:
"The CCRB needs to change its policy so that only complaints sworn under the pain of perjury are accepted and investigated.  It is patently unjust that police officers are the only ones held accountable for the statements they make to CCRB investigators. Our members continue to have their careers derailed by the mere filing of false complaints; having complainants swear to the truth of their statements at some point in the process is the very least CCRB can do to ensure it operates as intended under the City Charter. We have called time and again for complaints to be sworn before they are accepted for filing.  Doing so will deter those who maliciously file false complaints in retaliation against their arresting officers. The board must immediately reconsider the proposed rule change and strengthen it to include this requirement if they intend to work within the charter's mandate of fairness."
Currently, only police officers are held accountable for allegedly making false statements during CCRB interviews.  Under existing NYPD procedures, a police officer can be charged by the department with making false statements during CCRB interviews, and may face consequences up to and including dismissal.  By contrast, complainants face no consequences for lying during CCRB investigations, and the board acknowledged at its most recent meeting that no attempt has ever been made to punish a complainant for filing false complaints or making false statements.
# # #The Police Benevolent Association of the City of New York (PBA) is the largest municipal police union in the nation and represents nearly 50,000 active and retired NYC police officers.