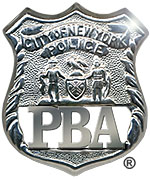 PRESS RELEASE
January 7, 2016
---
Suspect in the 1972 assassination of Police Officers Foster and Laurie is sentenced upstate for heroin sales
Albany, NY: Sixty-five year old former Black Panther Army (BLA) member, Robert Vickers, (also known as Rashad Abdur-Rahman) was sentenced to 21 years in jail for multiple sales of felony weight heroin to undercover police officers on six occasions in Albany and Menands.
Vickers has long been suspected of playing a role in the assassinations of police officers Rocco Laurie, 23, of Staten Island, and Gregory Foster, 22, of the Bronx, but was never charged in that case. The officers were ambushed by a team of assassins on January 27, 1972 at the corner of 11th Street and Avenue B. The BLA took credit for the killings days later.
NYC PBA president Patrick J. Lynch, who was in the court room to witness the sentencing, said:
"It will be the 45th anniversary of the cold-blooded murder of police officers Foster and Laurie later this month by what can only be described as domestic terrorists. Police officers never forget their fellow officers who sacrificed their lives in service to the city, nor do we forget those who were not held accountable for the role that we know they played in those officer's deaths. While we are disappointed that Vickers never served time for his participation in those murders, we are pleased to see that he is being held accountable for peddling poison for profit and that it is likely he won't survive to walk free again."
A month after the murder of the two officers, BLA member Ronald Carter, a suspect in the case, was killed in a gun battle with police officers in St. Louis. In November, 1973, Twymon Myers, another suspect in the Foster/Laurie case, was killed in a gunfight with FBI agents and NYC police officers during a gunfight in the Bronx.