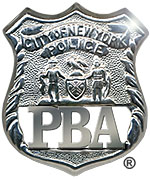 PRESS RELEASE
June 28, 2016
---
NYC PBA Files Declaration of Impasse in Negotiations with De Blasio Administration on Police Officer Pay
The filing asks for the appointment of an independent mediator to resolve a deadlocked process and reach a fair contract agreement for approximately 24,000 PBA members
The Patrolmen's Benevolent Association of the City of New York (PBA) today announced the filing of a Declaration of Impasse with the New York State Public Employment Relations Board (PERB) in an effort to restart the currently deadlocked contract negotiations with the de Blasio Administration. The filing is the next step in the PBA's efforts to achieve fair pay for New York City police officers, and asks for PERB to appoint a mediator to assist in the process and reach a fair resolution. 
New York City police officers, who have been working without a contract since 2012, were once the highest paid officers in the country. In recent years, as the NYPD has become more diverse, NYC officers are falling farther behind in pay, and, as a result, can't afford to live and raise families in the neighborhoods they patrol. 53% of the latest class of officers are people of color, but on average they will make 34% less than cops both locally and nationwide, falling behind officers in local departments – such as Nassau and Suffolk Counties and the Port Authority Police Department. In addition, they rank at the very bottom in police officer pay for the 20 largest U.S. cities, including officers from cities such as Austin, Chicago Seattle, San Francisco, Houston, and Philadelphia, to name a few.
The PBA has been engaged in contract negotiations with the de Blasio Administration for more than two years, and attempts to reach a fair-market rate of pay have been met with resistance from day one. As a result, in a recent scientific member survey commissioned by the PBA, 89% of members said they would leave the NYPD for another law enforcement agency with better pay in the New York City area. 85% would leave the New York City area altogether if offered better pay.
NYC PBA president Patrick J. Lynch said:
"By declaring these negotiations at an impasse, we are taking the next step to ensure that New York City police officers – who protect the biggest city in the country every day - receive a rate of pay equal to other police officers locally and across the country. Our officers were once the highest paid, now, as we're more diverse, we're falling behind. This is just another example of Mayor de Blasio and his administration not appropriately supporting our police officers, who, as a result, would leave the NYPD if they could. That's bad for the city's future. We are hopeful that an independent, third-party mediator can restore a sense of fairness to a process that has been taken over by the Mayor's insistence on playing politics, and provide our members with a contract that will allow them to provide for themselves and their families."
Contract settlements for New York State public employees are governed by the Taylor Law and administered at the state level by PERB. In 2001, following a lengthy legislative and legal battle, the PBA won the right to engage PERB to oversee components of the negotiating process for New York City police unions.
The first phase of the process involves negotiations with union representatives and representatives from the City of New York where they discuss mandatory collective bargaining issues - including compensation and benefits - and other permitted issues, such as working conditions and work schedules. If a negotiated settlement cannot be reached, either side may file a Declaration of Impasse with PERB, as the PBA has filed today. If PERB determines that an impasse exists, the dispute will proceed to non-binding mediation with a PERB-appointed mediator. Mediation is a required step in the process, however, the mediator's recommendations are non-binding and may be rejected by either side. If a settlement cannot be reached through negotiation or mediation, either side may petition PERB to bring the dispute before a three-member arbitration panel, which reviews evidence and hears arguments presented by both sides before determining an award, which are final and binding.