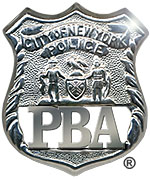 PRESS RELEASE
January 15, 2016
---
6 Nationwide law enforcement boycott started by NYC PBA hurts cop-hater Tarantino's "stinker" Hateful Eight
The movie boycott of "The Hateful Eight" initiated by the president of the Patrolmen's Benevolent Association of the City of New York (NYC PBA) has resulted in the lowest earning film in years produced by Quentin Tarantino who called police officers "murderers."   
In October, 2015, following reports of Tarantino's participation in anti-police rallies, NYC PBA president Patrick J. Lynch said:  
"It's no surprise that someone who makes a living glorifying crime and violence is a cop-hater, too. The police officers that Quentin Tarantino calls 'murderers' aren't living in one of his depraved big screen fantasies — they're risking and sometimes sacrificing their lives to protect communities from real crime and mayhem.  New Yorkers need to send a message to this purveyor of degeneracy that he has no business coming to our city to peddle his slanderous 'Cop Fiction.' It's time for a boycott of Quentin Tarantino's films."
Lynch's call for New Yorkers to boycott the film spread to police departments and law enforcement unions across the nation and has taken a toll on this "stinker" of a movie.
PBA president Patrick J. Lynch said:
"With nearly one million law enforcement officers in this country who have families and friends who support them, the impact that police have economically on a product or project is immense.  The law enforcement boycott of cop-hater Quentin Tarantino's movie is one demonstration of that economic power.  Can we take full credit for the stinker's failure?  Well, one thing we can attest to is that many, many good citizens have told us that they were offended by Tarantino's ignorant, anti-police remarks and as a result, have refused to spend their money on this movie."