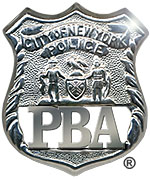 PRESS RELEASE
May 31, 2016
---
NYC PBA launches second TV ad in major campaign criticizing mayor de Blasio for lack of support of fair pay for Police Officers
The Ad –Titled "Families" – Begins Today and Shows the Faces of the Families of NYC Police Officers Struggling on a Cop's Salary; Ad is the Latest in 7-Figure Ad Campaign that Launched Earlier this Month
The Patrolmen's Benevolent Association of the City of New York (NYC PBA) today launched a second television advertisement as part of its major campaign criticizing Mayor de Blasio and his administration for refusing to support fair pay for New York City police officers.
The ad, which begins running today on broadcast and cable stations, is part of a 7-figure television ad campaign by the NYC PBA, and shows portraits of families – including children, wives, husbands and domestic partners - of NYPD police officers that cannot afford to live in New York City on a police officer's salary. The ad says that there are families in New York City that are struggling to pay the bills, and then explains that they are not the families of unemployed workers, but those of New York City police officers. The ad then points to the fact that, on average, New York City police officers make 34% less than other police officers, both locally and nationally.
As it concludes, the ad addresses the Mayor directly, saying: "Mayor de Blasio promised to end income inequality, but he's refusing to protect the families of the men and women who protect their city." The ad ends with: "Tell the Mayor: Police officers have families too. Pay them fairly."
Video of the ad can be found here.
The "Families" ad is part of an ongoing campaign by the NYC PBA in an effort to share the story of these families – as well as highlight Mayor de Blasio's broken promises – with New Yorkers across the city.  Previously, the PBA has been running the "Jennifer" ad, which highlights the wife of an NYPD officer and describes the difficulties she and her husband face each month as they try to support themselves and their three young daughters on a police officer's salary.
NYC PBA president Patrick J. Lynch said: 
"As you look at the the faces of the families of police officers, you can see just how much they are impacted by the lack of pay and support from this administration. The Mayor talks about protecting the families of working New Yorkers, but when it comes to the wives, husbands, children, and partners of our police officers, he turns a blind eye. He needs to step up and bring an end to the injustice that is happening in his own police department, so that the women and men who protect our city can do the same for their own families."
The television advertising campaign is the latest in the NYC PBA's ongoing strategy to receive fair pay and an adequate disability benefits for police officers. Last week, PBA members lined both sides of City Hall to rally for City Council support on fair disability benefits. Currently, police officers hired after 2009 are only entitled to 50% of their salaries, reduced by an offset of half the social security benefits received by the officer, while those hired earlier get 75% with no reduction for social security benefits received. Additional efforts of the PBA include print and radio advertising, member activation events, mailers sent to New Yorkers' homes, and a scientific member survey showing that morale among PBA members has hit rock bottom.