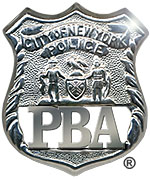 PRESS RELEASE
August 2, 2016
---
NYC PBA Members organize outside Gracie Mansion and Park Slope YMCA to call on Mayor to address Police Officer pay
More than 100 Members – Frustrated by a Mayor Who is Missing in Action – Demonstrated Outside the Mayoral Residence and His Gym to Reach a Fair Contract Agreement
The Patrolmen's Benevolent Association of the City of New York (PBA) announced that more than 100 members gathered outside Gracie Mansion this morning – the city's official mayoral residence – and the Prospect Park YMCA, the preferred workout spot for Mayor de Blasio. The member demonstration was the result of a growing frustration with the Mayor and his administration for their refusal to work with police officers to move them towards a market rate of pay.
Video of the members outside both locations is available HERE (password: pbavideo)  See shot list at the end of this release.
New York City police officers, who have been working without a contract since 2012, were once the highest paid officers in the country. In recent years, as the NYPD has become more diverse, NYC officers are falling farther behind in pay, and, as a result, can't afford to live and raise families in the neighborhoods they patrol. 53% of the latest class of officers are people of color, but on average they will make 34% less than cops both locally and nationwide (see attached charts), falling behind officers in local departments – such as NYS Troopers, MTA Police  and the Port Authority Police Department. In addition, they rank at the very bottom in police officer pay for the 20 largest U.S. cities, including officers from cities such as Austin, Chicago, Seattle, San Francisco, Houston, and Philadelphia, to name a few.
The de Blasio administration claims that New York City police officers are not underpaid in comparison to police officers elsewhere. However,  the City's numbers are fundamentally flawed because they do not adjust for cost of living when comparing police salaries in major cities around the country, even though every New Yorker knows that our area has one of the highest costs of living in the nation. Additionally, the de Blasio administration grossly distorts the cost of fringe benefits for NYC police officers in an attempt to support its contention that NYC police officers are fairly paid. Neutral arbitrators in previous PBA arbitrations have found that NYC police fringe benefits are roughly equal to those of other police forces across the nation. An apples-to-apples comparison of cost-of-living adjusted compensation shows that NYC police officers are substantially underpaid, especially in comparison to other NYC metro area police officers who are in the same labor market.
The PBA has been engaged in contract negotiations with the de Blasio Administration for more than two years, and attempts to come closer to a fair-market rate of pay have been met with resistance from day one. As a result, in a recent scientific member survey commissioned by the PBA, 89% of members said they would leave the NYPD for another law enforcement agency with better pay in the New York City area. 85% would leave the New York City area altogether if offered better pay.
NYC PBA president Patrick J. Lynch said:
"The frustration among our members is real, it's growing, and we cannot sit back any longer and allow the Mayor and his administration to sleep at the wheel while police officers pay the price. By coming together and organizing to protest the City's inaction, we are taking another step to show the Mayor that New York City police officers – who protect the biggest city in the country every day – deserve and will fight for a rate of pay equal to other police officers locally and across the country as state law requires. And we won't stop here. Over the course of the next several months, our members will be out in force to tell the Mayor we will not stand for playing politics with our members and their families."
The PBA has filed a formal declaration of impasse in its negotiations with the state's Public Employment Relations Board (PERB). If PERB determines that an impasse exists, the dispute will proceed to non-binding mediation with a PERB-appointed mediator. Mediation is a required step in the process. If a settlement cannot be reached through mediation, the dispute will be settled in binding arbitration before a three-member arbitration panel.
* * *
Shot list:
DeBlasio emerges from his breakfast café at 02:50 and Lynch's news conference immediately follows.
Here's a chrono shot list, sorry no time codes here:
PBA billboard truck parked at Gracie Mansion

PBA members wait for Mayor outside Gracie Mansion gates

Close-up of PBA members with signs

PBA members picketing Gracie Mansion

Mayor's motorcade leaving Gracie Mansion

PBA billboard truck driving in Park Slope

PBA members gathering in front of Park Slope YMCA

PBA members chanting in front of cafe where Mayor is eating, then following Mayor across the street to the YMCA

Reverse angle of PBA members following Mayor down the street to YMCA

Lynch speaks to media