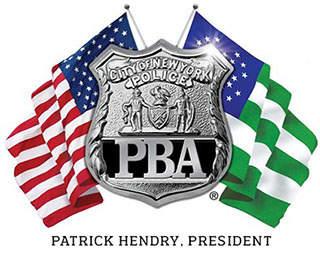 PRESS RELEASE
June 23, 2016
---
NYC PBA places full-page ad in Indianapolis newspaper ahead of Mayor de Blasio's visit
The Ad Criticizes de Blasio for Leaving Town and Talking Up His "Accomplishments" While NYC Heads in the Wrong Direction; PBA Also Placing Billboard Truck Outside the Conference Venue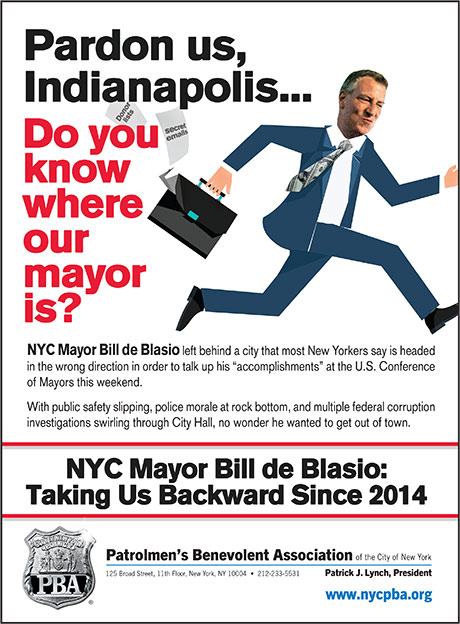 The Patrolmen's Benevolent Association of the City of New York (NYC PBA) today placed a full-page print ad in the Indianapolis Star, the city's largest daily newspaper, criticizing Mayor Bill de Blasio ahead of his appearance at the U.S. Conference of Mayors on Friday and Saturday. The ad, which will appear in the news section of Friday's paper, asks Indianapolis residents "Do you know where our mayor is?" (Click on image, left, for full-size version.)
The ad goes on to say: "NYC Mayor Bill de Blasio left behind a city that most New Yorkers say is heading in the wrong direction in order to talk up his accomplishments at the U.S. Conference of Mayors this weekend."
"With public safety slipping, police morale at rock bottom, and multiple federal corruption investigations swirling through City Hall, no wonder he wanted to get out of town."
It concludes by saying: "NYC Mayor Bill de Blasio: Taking us Backward Since 2014."
In addition to the full-page ad, the NYC PBA has arranged for a billboard truck with the same images to circle the conference venue — the JW Marriott Indianapolis — so attendees and de Blasio's own colleagues can see what real New Yorkers think of their mayor.
NYC PBA president Patrick J. Lynch said:
"The Mayor can run, but he cannot hide from the mounting problems here at home. New Yorkers want a mayor who keeps our streets safe, clean, and is focused on honest leadership for all New Yorkers, not one who cares more about raising his own national image. Mayor de Blasio, come back to New York City and do the job you were elected to do."
# # #The Police Benevolent Association of the City of New York (PBA) is the largest municipal police union in the nation and represents nearly 50,000 active and retired NYC police officers.