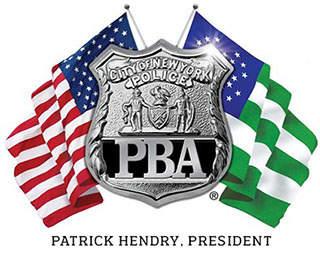 PRESS RELEASE
February 24, 2016
---
PBA says Emery should have no role at CCRB
CCRB Chairman Richard Emery reacted to the PBA's call for his removal because of a irreconcilable conflict of interest (his law firm sues the City using substantiated CCRB cases) saying the union was "squealing like a stuck pig."   Upon hearing Emery's clearly anti-police sentiments, PBA president Patrick J. Lynch said that "Emery has revealed himself with his own words and concerns about his obvious conflict have only been magnified by his inflammatory language.  He reveals that it is a point of pride to punish police officers.  Such a person should have no role in an agency charged with conducting fair and impartial investigations."
Last week the PBA called upon Mayor de Blasio in a letter (click here to read the entire letter) to remove the CCRB Chairman noting Emery "….has been in a position to financially benefit from lawsuits filed against the City by CCRB complainants…" and that he "…is incapable of fulfilling CCRB's City Charter mandate to investigate complaints against police officers 'fairly and independently.'"  Lynch's letter to the Mayor also noted that Emery's "involvement casts a shadow over every determination that CCRB has rendered during his tenure, and his continued service would taint every matter that comes before CCRB from this point forward."
# # #The Police Benevolent Association of the City of New York (PBA) is the largest municipal police union in the nation and represents nearly 50,000 active and retired NYC police officers.