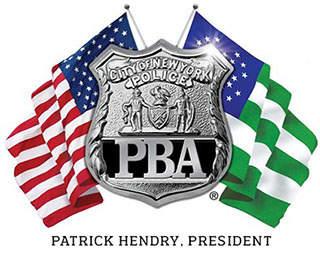 PRESS RELEASE
April 27, 2018
---
PBA demands legislative action to fix broken, unaccountable parole system that freed triple-cop-killer Herman Bell
The Patrolmen's Benevolent Association of the City of New York (NYC PBA) today called on the New York State Legislature and Governor Andrew Cuomo to take action to fix the broken NYS Parole Board system following its flawed, illegal decision to parole three-time cop-killer Herman Bell. As the PBA presses forward with its legal challenge to Bell's parole, PBA President Patrick Lynch demanded that the parole laws be strengthened so that cop-killers like Bell are not granted parole in the first place, and so that victims or their representatives can hold the Parole Board accountable in cases where it fails to follow the law.
PBA President Patrick J. Lynch said: 
"The current parole process contains gigantic loopholes that allow murderous monsters like Herman Bell to game the system by concocting a phony story tailor-made for the new parole guidelines, which don't place enough weight on the nature of the crime. To make matters worse, the courts seem to believe that politically-appointed parole board members have unbridled discretion to release criminals onto our streets and are completely immune from challenge by anyone, even when they disregard the law or the board's own procedures. That must change. As we continue to challenge the Parole Board's flawed, illegal decision to release Bell, the NYC PBA will seek legislation that will close these loopholes and prevent other cop-killers from stepping foot outside prison walls."
NYS Senator Marty Golden, a former New York City Police Officer said:
"Governor Cuomo and the people that are implementing his policies have pointed a loaded gun at the head of public safety, and it is only a matter of time before a known killer again pulls the trigger. Who is going to be the next victim? We must immediately fix the broken parole system to ensure that criminals who deserve to be in prison stay in prison. I stand with PBA President Pat Lynch and all law enforcement members as we fight to right this wrong."
See also a statement, below, provided by Mrs. Diane Piagentini, widow of P.O. Joseph Piagentini.
On May 21, 1971, Herman Bell, Anthony Bottom and Albert Washington, in a planned and intentional act, ambushed and viciously assassinated Police Officers Joseph Piagentini and his partner Police Officer Waverly Jones in front of the Colonial Park Houses (now the Rangel Houses) in Harlem.  P.O. Jones died instantly, but P.O. Piagentini was only wounded in the initial shooting.  While pleading for his life in the name of his wife and two daughters, Herman Bell emptied two guns into the already seriously wounded officer.  He died on the way to the hospital.   The three Black Liberation Army members were convicted and sentenced to 25 years to life, which was the most serious penalty available in those days.  Albert Washington died in prison and Anthony Bottom comes up for parole in June. Bell has also pleaded guilty to the murder of Sgt. John Young in San Francisco.
# # #

Statement of Mrs. Diane Piagentini, Widow of P.O. Joseph Piagentini
"There are no words to describe our outrage and disappointment in Governor Cuomo. Just like our police officers, Governor Cuomo took an oath to serve and protect the citizens of New York. By doing nothing to stop the parole of Herman Bell, he failed to uphold his oath and showed his implicit support for a terrorist and three-time cop-killer.
"Governor Cuomo's parole board appointees have seen fit to release an individual who is intelligent enough to plan and execute both robberies and assassinations of police officers across the country.  The parole board did not take into account his mental stability.  He is a planner and a manipulator, and he will persuade young people to his way of thinking – just like he manipulated the parole board to release him.
"The Attorney General, our top law enforcement official, allowed his office to argue on behalf of three-time cop-killer Herman Bell and against our families.  The Attorney General's office could have and should have declined to represent the parole board. The parole board's decision could have been rectified by a new parole panel with new commissioners to rehear this case. Herman Bell would still be in prison.
"Governor Cuomo has time to issue an executive order to give parolees the right to vote, but not to meet with us, the Piagentini family and the Jones family. Governor Cuomo is only interested in getting votes — he is so desperate for votes that he has failed the citizens of New York. He appointed the parole commissioners, Cruse and Shapiro, who voted for Bell's release. Therefore, he should have taken responsibility from the beginning and requested a new parole hearing. He also could have issued an executive order to rescind the release of such a heinous killer who manipulated and lied to the parole board.
"So,  Governor Cuomo, what will you say to the families of police officers when Herman Bell builds a new Black Liberation Army – and they go on a rampage of killing police officers again?  Shame on you. You should have put politics aside and done the right thing.  You should have given us a new parole hearing. You should have at least met with us and done right for two police officers, Joseph Piagentini and Waverly Jones, who were killed protecting and serving the citizens of New York."
# # #The Police Benevolent Association of the City of New York (PBA) is the largest municipal police union in the nation and represents nearly 50,000 active and retired NYC police officers.