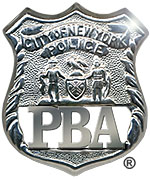 PRESS RELEASE
March 15, 2018
---
Police Widow and PBA call for the firing of the parole board members who granted release to multi-cop killer Herman Bell
The widow of Police Officer Joseph Piagentini and the President of the nation's largest police union, the Patrolmen's Benevolent Association of the City of New York (NYC PBA), today called for the dismissal of the Parole Board members who voted to release domestic terrorist Herman Bell.  Mrs. Diane Piagentini, who has been a forceful advocate of keeping cop-killers in jail for life, joined PBA President Patrick Lynch and board members of the PBA to call for the firing of the panel.  Congressman Peter King, Senator Martin Golden and Senator Fred Akshar, who were unable to attend, also express their outrage and concern.
On May 21, 1971, Herman Bell, Anthony Bottom and Albert Washington, in a planned and intentional act, ambushed and viciously assassinated Police Officers Joseph Piagentini and his partner Police Officer Waverly Jones in front of the Colonial Park Houses (now the Rangel Houses) in Harlem.  PO Jones died instantly, but PO Piagentini was only wounded in the initial shooting.  While pleading for his life in the name of his wife and two daughters, Herman Bell emptied two guns into the already seriously wounded officer.  He died on the way to the hospital.  The three Black Liberation Army members were convicted and sentenced to 25 years to life, which was the most serious penalty available in those days.  Albert Washington died in prison and Anthony Bottom comes up for parole in June. Bell has also pleaded guilty to the murder of Sgt. John Young in San Francisco.
 PBA President Patrick J. Lynch said: 
"Today, in this progressive society, it is accepted that the appropriate sentence for anyone who intentionally murders a NYC police officer is life without parole.  Why is it that the same accountability and penalty doesn't apply to murders from another era?  The cold-blooded assassination was planned and carried out by three men who, if they committed the same crime today, would never see the light of day for their actions.  Society's sentence for today's cop-killers should be applied by all future parole panels.  If you killed a police officer, you don't get out of prison. For those who say that these cop-killers have been rehabilitated, we say that the deaths they caused are irreversible and that they have forfeited their right to live in a civilized society because of the dastardly nature of their crimes. As punishment, they must spend the rest of their natural lives in prison. They didn't just kill three police officers during their criminal lives, they attacked all of society who rely on those officer to keep them safe. This parole panel blew this call and they should be fired immediately before they do more damage to law enforcement and to society."
Mrs. Diane Piagentini, the widow of Joseph, said: 
"My daughters, Deborah and Mary, and I are very angry and sickened that this horrible person, who was devoid of any human compassion or empathy and who killed their Father and my husband as he pleaded for mercy, will be release from prison. We believe that the members of parole board who made this horrible decision have not only betrayed the trust of all the line of duty police families, but have also failed in their duty to protect the citizens of this state.  They should be fired and should never be allowed to sit in judgment again. How can we ask our police officers to risk their lives to protect society when society fails to appropriately punish their animalistic killers?" 
Congressman Peter T. King said: 
"It's absolutely disgraceful that Herman Bell the convicted killer of hero cops Joseph Piagentini and Waverly Jones is being paroled. My father was in the NYPD when Officers Piagentini and Jones were murdered. I remember how devastated he and all New Yorkers were by the cold blooded murder of these brave police officers. This is a terrible injustice. How can Herman Bell be paroled?"
Senator Marty Golden, a former New York City Police Officer, said: 
"Sadly, the Governor's appointed members of the New York State Parole Board have proven to be out of touch by giving the green light to release unrepentant cop killer Herman Bell from prison. The parole board has greatly failed the State of New York by ignoring the pleas of the distraught family, elected officials, law enforcement and concerned citizens. The parole board has blatantly disregarded the heinous actions perpetrated by this violent felon who took the lives of three innocent police officers. By releasing Herman Bell, the Parole Board has dishonored the service and sacrifice of slain officers Joseph Piagentini and Waverly Jones."
Senator Fred Akshar said:
"The fact is Herman Bell helped lure, ambush and sadistically murder two public servants simply because of the police uniforms they wore. That kind of evil has no place in our society. These heinous acts deserved life imprisonment when they were committed in 1971 and they deserve life imprisonment today. Unfortunately, the parole board failed the families of Officer Waverly Jones, Officer Joseph Piagentini and anyone who believes in justice for heinous acts of murder."
Senator Patrick M. Gallivan said: 
"The Board of Parole's decision to release convicted killer Herman Bell from prison is an affront to the families of the victims and law abiding citizens everywhere.  Bell's cold and calculated murder of Officers Jones and Piagentini represented an attack on the entire community and a complete disregard for the rule of law.  The members of the Parole Board who made this decision, Otis Cruse and Carol Shapiro, have failed the citizens they are supposed to serve."