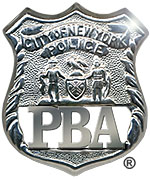 PRESS RELEASE
October 19, 2018
---
The PBA and two police families oppose the parole of five cold-blooded cop-killers
Joined by NYC PBA President, Patrick J. Lynch, Lawrence Byrne, Manny Jones and Gwenna Wright presented their families' victim's impact statements today opposing the parole for the five men convicted in the cold-blooded assassinations of Police Officers Edward Byrne, Waverly Jones and Joseph Piagentini. Piagentini's widow, Diane, gave her victim impact statement opposing parole for Anthony Bottom last Friday, October 12th.
Police Officer Edward "Eddie" Byrne was assassinated on February 26, 1988, just five days past his 22nd birthday. He was assigned to guard the home of a man known only as "Arjune" who was a witness in an ongoing drug case and whose home was previously firebombed to discourage him from testifying. The execution of a police officer was ordered by drug kingpin Howard "Pappy" Mason from jail. The four assassins — David McClary, Scott Cobb, Todd Scott and Phillip Copeland — who shared $8,000 for the murder bragged to others about their crime which led to their arrest a few days later.
Police Officer Waverly Jones, 33, was shot five times from behind by Anthony Bottom who then joined two other members of the Black Liberation Army (BLA) — Herman Bell and Albert Washington — in the sadistic assassination of Jones's already wounded partner, Police Officer Joseph Piagentini, 28, as the officer begged for mercy in the name of his two young daughters.  Bottom is presently seeking parole. Bell's release on parole in April of this year is presently being challenged in court by Mrs. Piagentini. Albert Washington died in prison. The three BLA members, who traveled from San Francisco to commit the murders, also celebrated the successful ambush and assassination of Jones and Piagentini with a night or partying after the murders.
PBA president Patrick J. Lynch said: 
"These five miscreants who bragged about the executions of three NYC police officers have given up their right to freedom. John Lennon's murderer was denied parole on the grounds that his release would be 'incompatible with the welfare and safety of society' and we agree. So too, would be the release of these five cop-killers who did not hesitate to assassinate police officers for money or for misguided politics. Anyone who would so casually kill a police officer would not hesitate to pull the trigger on a civilian. To grant them parole would be a gross abuse of discretion by the sitting parole board. To prevent the possibility of that abuse from occurring in the future, NY State must pass legislation that will govern by statue the parameters for granting parole. The right to make those policies has to be taken out of the hands of prisoner advocates and must be codified in law. There is a place for parole for low-level crimes but never in the case of cop-killers."
Lawrence Byrne, former NYPD Deputy Commissioner for Legal Matters and brother of the murdered officer said: 
"The death of Eddie, who was a son and brother, was a devastating blow to our family from which we will never recover. As a lawyer, I believe in the rule of law and how the law changes with the times. These cold-blooded killers only have the right to seek parole because they were convicted before life without parole was instituted for killing a police officer in New York State. Society today believes that anyone who intentionally kills a police officer should be sentenced to life without parole. So did the Judge who sentenced them. McClary, Cobb, Scott and Copeland certainly deserve no better than they would have received today. Getting old in prison doesn't resolve you of responsibility or punishment for your crime. Denying them parole would be in keeping the wishes of society and the sentencing Judge and with the spirit of the today's law that recognizes that cop-killers should never be granted parole." 
Manny Jones and Gwenna Wright, Police Officer Jones' siblings said:
"We, the immediate members of Waverly's family, firmly believe that his killer should never walk free. We have been permanently denied the pleasure of Waverly's company since that tragic night in 1971 and his killer's family should be denied the same. What is fair is fair. When we get Waverly back, then, and only then, should Anthony Bottom be released from prison.  Waverly's death was a terrible loss for our family and we will have to live with that pain for the rest of our lives."