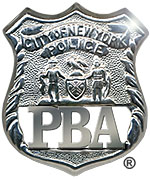 PRESS RELEASE
March 23, 2018
---
Families of murdered police officers plead to keep cop killers in prison
PBA President Patrick J. Lynch, today, joined the families of Police Officer Waverly Jones and Harry Ryman as their families pleaded before a state parole panel to keep Ryman's killer — Cornelius Bucknor — in prison and to reverse the shocking decision to release Jones's assassin, Herman Bell.
PBA President Patrick J. Lynch: 
"In both of these cases, these hero police officers, Waverly Jones and Harry Ryman, were doing what police officers do every day: helping people and fighting crime.  Jones was viciously assassinated while responding to a fake call for help and Ryman was intervening in a crime in progress — the theft of a neighbor's car — when he was shot.  If either of these crimes were committed today, both of these cop-killers would have been sentenced to life without the chance of parole. The statute governing parole states that it is not a reward for good conduct in prison and that release should not undermine respect for the law. There are few crimes that are more serious than murdering a police officer and releasing cop killers not only undermines the respect for the law but sends a terrible message to criminals. I thank the Ryman family and Manny Jones for the sacrifice they have made and I praise them for having the courage to relive these terribly traumatic events in order to see that justice is served. Courage runs in their families."
On March 21, 1971, Police Officer Waverly Jones was assassinated by a team of three men who placed a fake call for help in order to kill some cops. As Jones and his partner Police Officer Joseph Piagentini left the call, the cowards came up behind them and fired killing Jones instantly. Piagentini begged to be spared for the sake of his wife and two young daughters, but the thugs sadistically pumped a total of 22 bullets into him and left him to die.
On August 14, 1980, Police Officer Harry Ryman was shot and killed when he tried to prevent three men from stealing a neighbor's car. Despite being mortally wounded, Officer Ryman returned fire striking one of the shooters.  The three, all of whom were armed and fired at Ryman, were arrested at a nearby hospital while seeking treatment for their wounds.