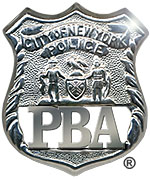 PRESS RELEASE
October 4, 2018
---
PBA seeks tougher parole policies as families of murdered police officers testify to keep cop-killers in jail
Families of NYC Police Officers Anthony Abruzzo and Sean McDonald, who were murdered while intervening in different crimes, will present their victim's impact statements to the NY State Parole Board on Friday, October 5th in hopes of keeping three cold-blooded cop-killers in jail while the PBA fights for tougher parole guidelines.  (Excerpts of family member's testimony are below.)
Police Officer Anthony Abruzzo, 34, was shot and killed while off-duty when he intervened in the robbery of his father-in-law, Joseph Mehran, in front of Mehran's home on December 16, 1981.  The perpetrators shot and killed the officer and fired multiple rounds at family members who followed PO Abruzzo out to the street.  Police Officer Sean McDonald, 26, was shot to death while arresting two armed robbers of a clothing store on March 15, 1994.  The officer was knocked to the ground during a fight and was shot five times in the back by the fleeing criminals.
PBA President Patrick J. Lynch said:
"We recognize that the judicious use of parole for certain offenses make sense, but never in the case of cop-killers.  That belief was codified in law when the Crimes Against Police Act of 2005 was adopted to make the murder of a Police Officer punishable by life imprisonment without parole.  Recent changes to the parole decision making policy, adopted by the Parole Board itself, have resulted in the release of the worst violent criminals in the system, including domestic terrorists who planned, set up and sadistically assassinated two uniformed police officers.  The unconscionable release of cold-blooded killers rarely occurred before the change in policy. 
"It is clear that the parole board must be governed by statute and not by politics.  The NYC PBA has been working with the state Legislature to enact a process into law that considers many factors, including, but not limited to the nature of the crime, impact on its victims and/or survivors, the activities of the inmate while incarcerated and the danger posed by release to the community when considering parole for an inmate.  Those policy decisions must not be left in the hands of political appointees many of whom are nothing more than self-proclaimed prisoner advocates.
"To that end, we have recently made suggestions to the State Legislature that are designed to bring parole policy into line with the spirit of the existing law of the state, specifically, the Crimes Against Police Act of 2005."
Repeal the 2011 amendment to the Executive Law, which mandated the Parole Board to be guided by the numerical score generated by a "risk and needs assessment" tool in rendering their determinations, and to provide an individualized explanation for any departure from those scores.

Enact statutory requirements that re-emphasize the seriousness of the instant offense, specifically in connection with its impact on respect for the law and the welfare of society as a whole, in the Parole Board's decision-making process.

Pass legislation – introduced as S.8921 to amend the Executive Law to clarify that crime victims, their family members or representative have standing to appeal Parole Board determinations.

Urge the Senate to exercise even greater scrutiny over Parole Board appointments.
EXCERPTS FROM FAMILY MEMBERS' VICTIM IMPACT STATEMENTS
Barbara Abruzzo, wife of murdered PO Anthony Abruzzo opposing parole of Tommy Nelson:
"Tommy Nelson wearing round rimmed glasses and ski hat came hopping out of the garage and he shot at me, my younger brother and my mother. I yelled 'what the hell is going on' and he said 'I'm going to kill you mother fucker.'  I yelled to my brother to get down and pushed him.  Another shot passed by my face and burned three holes in my brother's shirt.  I remember seeing the gun fire out of the barrel of the gun.  I saw the other one shoot at my aunt.  The gun did not go off…"

"This could have been a massacre had all those shots fired hit us. They knew they already shot a Police Officer and continued to shoot at us with no regard or respect for human life."

"After killing Tony they proceeded to do 2 or 3 more robberies that same night. Tommy Nelson had no remorse.  He worked at what he knew how to do best, rob and murder, and if given parole that is exactly what he will continue to do.  He could never be reformed.  He is still getting in trouble in prison.  He is nothing more than a lying murderous criminal that deserves to be caged for life like the animal that he is.  A leopard cannot change its spots."

"It took him 35 years to realize a life was taken and people are suffering? Give me a break.  He feels nothing about the life that was taken, only about the life he wants to have." 

"Whoever takes a life does not deserve a life."

Don't make the life of my husband Police Officer Anthony Abruzzo so trivial. Don't believe that they show remorse, the only remorse they have is that they got caught and are in prison.  Don't send a message that if you kill a Police Officer you will one day see the light of day again.  Don't give them the opportunity to do to someone else what they did to me and my family.  Don't let them hurt anyone else.  They are where they belong, behind bars and out of society." 
Robert Mehran, brother-in-law of PO Abruzzo opposing parole of Tommy Nelson – including a statement by the sentencing judge that he would have ordered the death penalty if the law allowed:
"It is a fact that this individual is a danger to society."

"He continues an admitted drug addiction behind bars."

"The lies told to the Board underlines the propensity for a life of continues crimes."

Mehran quotes the remarks of the sentencing judge, Hon. John H. Leheay, in his victim's impact statement: "…there is not mitigating facts or circumstances you and two friends, two killer-friends showed any remorse at any time for their acts for which they stand before this court.  Why?  I have been told that during the course of the trial, during the course of the court taking the verdict from the jury, these defendants were smirking, had wise guy attitudes, were looking around at the family of the deceased officer and making all kinds of signs and gestures, which the court recalls to be a fact.  No remorse!! Again, this defendant, if the court had the power, certainly would order the ultimate sentence, death by execution.  Unfortunately, as I said, it is not the law of New York State at this time."
Theresa Mehran, sister-in law of PO Abruzzo, opposing parole of Tommy Nelson:
"I get it, prisons are overcrowded and our governor wants to try and let criminals out of prison and see if they can remain crime free.

"What message is he sending? It's OK, kill a cop and you shall be set free.  What happens when Tommy Nelson cannot get a job and then there is another robbery gone wrong and someone else is murdered?  Who will be to blame then?  The Governor? Tommy Nelson?  The parole board?"

"He [Tommy Nelson] takes responsibility for part in the crime, but the only thing that he admits to is being there. Really not taking responsibility for anything.  He went to someone to get a gun specifically to commit this crime and didn't think that somebody would get hurt.  Never intended to use it just wanted it for protection.  Protection from whom?  He and his friends were the ones with the guns.  It makes no sense to me.   He knew what he was doing, he got caught, and that is the only thing he is sorry for and nothing else."

"I am begging the parole board do not set this animal free. Do not let Police Officer Anthony Abruzzo's death be in vain.  Do not slap his widow, Barbara Abruzzo, in the face by showing her that her pain and suffering is inconsequential. "
Andrew McDonald, brother of PO Sean McDonald opposing the release of Rodolfo Rodriguez, one of two convicted killers:
"Ever since the day inmate Rodriguez murdered PO Sean McDonald we have be victims of his crime. He should never have been on the street that night - why he was let out of jail after being arrested for selling drugs in his own neighborhood I will never understand."

Inmate Rodriguez is in this country illegally, and yet when caught selling drugs to his own community he was allowed to victimize citizens of this city. In addition to being a drug dealer inmate Rodriguez was also part of a stick up crew that robbed bodegas and other businesses in upper Manhattan and the Bronx.   Twenty-five years ago he was given a second chance – even though he was here illegally – and he chose to take the easy route and take what he wanted from whoever he could.

"Since being incarcerated inmate Rodriguez has not done anything different. He has repeatedly victimized people in his community – the only difference is this time it's other inmates and Corrections Officers instead of free citizens and Police Officers of NYC. 

"The idea that his time in jail has done anything but shed light on what a violent predator he is – is absolutely ridiculous. Inmate Rodriguez does not deserve to walk amongst the lawful citizens of NYC or the Dominican Republic."
Andrew McDonald, brother of PO Sean McDonald opposing the release of Javier Miranda, the second of two convicted killers:
"Simply being here and giving this statement infuriates me. This is absolutely ridiculous. How?!  How does someone that intentionally took the life of another person, a uniformed Police Officer, how does a person that murders a police officer while committing a robbery even get the possibility of tasting freedom again?  How?  Can someone please explain to me how 25 years is enough time?  Is that what Sean's life was worth?  Is that what our loss was worth?"

"Our nightmare just gets worse because of these murderers. When do I get my life back?  When does Janet get her husband back?  When do Jessica, Sean and Kerry get their father back?  When does Kerry's daughter, Destiny, get to play with her grandfather?  When those things come to fruition, when our lives are whole, only then should even entertain the idea that these murderers getting even a chance at freedom.  When we get back what was taken from us, when our pain stops, then he can come and ask for forgiveness and attempt to gain his freedom."

"As far as I'm concerned inmate Miranda gave his freedom away the night he caused my brother's death."

"Did he ever take responsibility for what he did? From day one he has been pointing fingers.  Inmate Miranda wasn't sorry then, and he is not sorry now. Don't believe his get out of prison scheme."