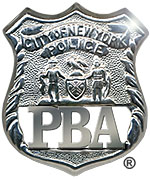 PRESS RELEASE
May 18, 2018
---
Families of assassinated police officers Jones and Piagentini are joined by PBA President Pat Lynch, board members and MOS as they appeal to a Parole Board to keep cop-killer Anthony Bottom in prison.
Just three days shy of the 47th anniversary of the cold-blooded assassination of their loved ones by three members of the Black Liberation Army (BLA) on May 21, 1971, the families of Police Officers Waverly Jones and Joseph Piagentini gave heart-wrenching testimony before a parole board opposing the release of Anthony Bottom for his role in the planned, cold-blooded assassination of Police Officers Waverly Jones and Joseph Piagentini. 
Manny Jones and Gwenna Wright, Officer Jones's brother and sister, and Officer Piagentini's wife, Diane, and two daughters, Deborah and Mary, appeared again before a three-person parole panel in order to impress upon them the life-long, painful loss of their loved ones that was inflicted on their families by three members of the Black Liberation Army (BLA.)
PBA president Patrick J. Lynch said:
"Anthony Bottom, Herman Bell and Albert Washington, plotted and killed two officers in a hail of gunfire in the most notorious, heinous and sadistic assassination of police officers in our City's history.  These two heroic cops had just answered a fake call for help when these three cowards attacked them from behind and assassinated them for no other reason than wearing the blue uniform.  Bottom shot Waverly Jones in the head killing him instantly but that was not enough for Bottom who put four more rounds from his .45 caliber handgun down Waverly's spine.  Joe Piagentini begged for mercy for the sake of his wife and two baby daughters and was shot over 20 times by the trio in the most sadistic manner imaginable.  Then the trio of cold-blooded cop-killers celebrated their 'victory' and partied through the night.  There is an evil in this world that cannot be rehabilitated and Anthony Bottom and his murdering partners are its embodiment." 
The parole board's release of Herman Bell last month, which the PBA contends violated the law and the board's own procedures, is currently being challenged by Diane Piagentini and the PBA in Appellate Court. Washington died in prison.