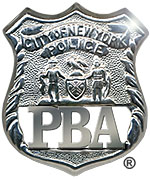 PRESS RELEASE
December 19, 2018
---
New PBA TV ad exposes how Mayor de Blasio's hypocrisy hurts working families
This Holiday Season, Mayor de Blasio Gives Gift of Uncertainty to PBA Members
In 'Hypocrisy,' a new television ad released today, the Patrolman's Benevolent Association (NYC PBA) sheds light on how Mayor Bill de Blasio has failed to represent working New Yorkers by looking out for his own interests first. New York City police officers remain drastically underpaid in comparison to other local police officers, and have been working without a contract for over a year, since July 31st, 2017. The six-figure ad buy is running on WABC, WCBS, WNYW, WNBC, WPIX, NY 1 and News 12. The ad can be viewed here.
 PBA President Patrick J. Lynch said: "New York City police officers are once again struggling to make ends meet during the holidays, and for that we can thank our disappearing Mayor. We are already among the lowest paid police officers in the NYC metro area, and Mayor de Blasio has offered us raises that do not even keep up with inflation. Meanwhile, the Mayor has raised his own salary and continues to make more money after increasing rent on the buildings he owns. For a mayor that has been exposed for being more interested in traveling the country than leading our City, it is particularly galling that he is leaving public servants in the lurch during the holiday season."
New York City police officers are continuing to fall further behind even other police officers working in New York City: recent contract settlements with the New York State Troopers and the Port Authority Police Department leave PBA members with an average compensation gap of approximately 42% and 57%, respectively.
Transcript of 'Hypocrisy'
Bill de Blasio pledged to run the most transparent government in history.
But after five years, the only thing clear is his hypocrisy.
He gave himself a 15% raise and up to 60% raises to his aides, but refused to pay police officer a market wage; called on landlords to freeze rents, but jacked up rents in the buildings he owns; berated corporations for mistreating employees, but wants to cut health benefits that city workers depend on.