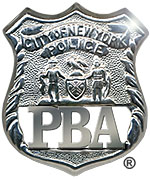 PRESS RELEASE
March 25, 2018
---
NYC PBA files for binding arbitration following the City's repeated bad faith offers in contract negotiations
City's Inflexibility During Mediation Process Included Demands for Dramatic Increases in Out-of-Pocket Health Care Costs, Wiping Out Offers of Minor Raises
The Patrolmen's Benevolent Association of the City of New York (NYC PBA) today announced the filing of a request for binding arbitration with the New York State Public Employment Relations Board (PERB) after PERB-supervised mediation produced no progress towards a negotiated contract settlement with the City of New York.
The NYC PBA's decision to seek arbitration is the result of the de Blasio administration's refusal to negotiate in good faith throughout the recent mediation process – a non-binding process that precedes arbitration when a contract impasse occurs. In a breathtaking display of bad faith, Mayor de Blasio's negotiators sought to diminish their already-unacceptable offer during mediation. NYC police officers are already underpaid by 30% or more in comparison to the average for other police officers in the NYC area and other major cities around the country.
 The City's latest purported offer to NYC PBA members is the worst they have seen so far, featuring dramatic increases in out-of-pocket health benefit costs and other givebacks that would effectively wipe out the paltry wage increases they would receive. Among the City's startling demands:
The health benefits reductions similar to those the de Blasio administration is seeking to obtain from the entire city workforce through the Municipal Labor Committee (MLC), including the imposition of new medical deductibles, as well as a tiered copayment structures intended to drive members to utilize City-run Health + Hospitals Corporation hospitals and their affiliated doctors. For example, members who utilize top-tier hospitals and their affiliated doctors instead of HHC facilities would see their hospital in-patient copayments increase from the current $300 to $3,000 and their primary care doctor and specialist co-payments increase from the current $15 to $40. 
A 57% reduction in the City's contributions to the PBA Health & Welfare Funds, which provide NYC PBA members with prescription drug coverage and other benefits. This move would result in dramatic reductions in or the complete elimination of benefits provided to PBA members.
The elimination of the PBA Annuity Fund for both current members and future hires.
Along with thes draconian givebacks, the de Blasio administration is demanding that NYC PBA members accept below-inflation raises totaling 3.25% over two years, including months of zero raises.
PBA President Patrick J. Lynch said:
"The supposedly 'labor friendly' de Blasio administration is following the corporate union-busting playbook by offering below-inflation raises and slashing health and pension benefits. The City's repeated bad faith proposals made a mockery of the negotiation process and were an insult to New York City police officers, who are already paid grossly underpaid in comparison to police officers in other departments locally and across the country. Throughout this process, all we've ever asked is to be treated fairly so that our members can receive a market rate of pay and benefits that aren't tied to unreasonable out-of-pocket costs. We now look forward to beginning the process with an arbitration panel and reaching a fair resolution."
Binding arbitration is the final step in the impasse resolution process. If the arbitration request is granted, the case will be sent to a three-person arbitration panel comprised of one City-appointed member, one member appointed by the NYC PBA, and a neutral arbitrator jointly selected by both parties. Once the panel reaches a decision, the awarded contracted is limited to cover a two-year period and must be agreed to by the neutral arbitrator and at least one arbitrator of the parties.