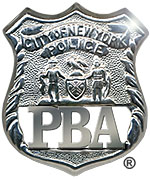 PRESS RELEASE
January 11, 2018
---
PBA and widow oppose parole for police assassin
Convicted police assassin, Herman Bell, who recently spent time in punitive segregation unit for assaulting a NY State Corrections Officer, is once again eligible to plead his case for release before the parole board.  PBA president Patrick J. Lynch vehemently opposes his parole and Diane Piagentini, the wife of one murdered officer, will offer her victim's impact statement opposing parole to the board via telephone on Friday.
PBA president Patrick J. Lynch said: 
"Herman Bell and his to murdering colleagues laid in wait for any two police officer to respond to a phony call for help with the intent of murdering them.  When PO Joseph Piagentini and Waverly Jones responded, they stepped up behind them and shot them killing PO Jones instantly.  PO Piagentini was wounded on the ground and pleaded for his life telling his attackers that he had two young daughters to live for.  Bell and his partners then emptied both officer's guns into PO Piagentini who died on his way to the hospital.  That kind of evil cannot be rehabilitated.  Had Bell been convicted of the same crime today, he would have been sentenced to life without the chance of parole which was not an option when he was convicted.  Herman Bell, who also killed San Francisco police Sgt. John Young, continues to be a danger in prison and should never be released to threaten the good people of NYC again." 
Those convicted of killing police officers before the law changed are eligible to seek parole every two years regardless of their behavior while incarcerated.  This statutory rule forces the families of murdered police officers to relive the pain and suffering of their loved ones' death over and over just to remind the parole board of the damage caused by these callous, cold–blooded murders. 
The NYC PBA's website, www.nycpba.org, has an app that allows anyone who wishes to oppose the parole of this, or any cop-killer, to send a letter directly to the parole board simply by clicking a few buttons.