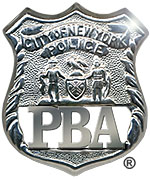 PRESS RELEASE
April 16, 2018
---
Over 367,000 letters in opposition to parole of cop killers
Response to a radio commercial boosts the number of letters per day from 300 to 52,000

A week-long PBA radio commercial campaign, launched because of a horrendous parole board decision to grant release to a convicted three-time, cold-blooded cop killer, Herman Bell, and voiced by the union's President, Pat Lynch, resulted in the generation over 367,000 letters to the parole board opposing the release of all cop-killers.
Prior to the commercial's airing, news stories about the outrageous decision to release Bell generated about 300 letters per day through the PBA's website.  The numbers grew to over 52,000 letters being generated per day through the website's (www.nycpba.org) "Keep Cop Killers in Jail" icon during the week that the commercials aired (4/6 thru 4/14.)
PBA President Patrick J. Lynch said:
"We brought our case for justice and our call for help to keep cop killers in jail, to the public who responded with overwhelming support.  It should be clear to any reasonable person, that no one believes that cold-blooded cop-killers like Herman Bell should ever be released from prison.   Parole may be appropriate for some low-level criminals, but it is never appropriate for cop killers.  We are deeply grateful to all of those good people who took the time to visit the PBA's website in order to object to the release of cop killers onto our neighborhood's streets."
Bell was slated to be released on April 17th, but a lawsuit brought by the PBA on behalf of police widow, Mrs. Diane Piagentini, resulted in a temporary restraining order requiring the state to keep Bell incarcerated during this and any subsequent legal action.  NY State Supreme Court Judge Richard Koweek is considering the case.  It is not known when the judge will release his decision.