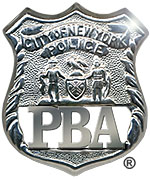 PRESS RELEASE
December 13, 2018
---
PBA letter to City Council clarifies NYPD involvement in HRA arrest
Lynch Asks Speaker Johnson to Help Tone Down Rhetoric
In a letter sent today to City Council Speaker Corey Johnson, PBA President Patrick J. Lynch asked Johnson to exercise his leadership to stop the "dangerous demagoguery" by some City Council members surrounding the December 7 arrest of Jazmine Headley inside a Human Resources Administration facility in Brooklyn.
In the letter, Lynch shared the PBA's understanding of the events that preceded the portion of the arrest that was captured on a viral video, including the roles that NYPD members and HRA Police personnel played in the incident.  Lynch noted that the calls by Council members for the firing or imprisonment of NYPD members "are exacerbating the already hostile anti-police atmosphere that exists both online and in the streets, and are sending a profoundly negative message to every single police officer who protects your constituents."
See a copy of the letter.