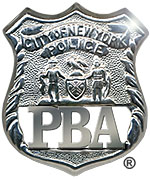 PRESS RELEASE
August 1, 2018
---
NYC PBA demands Mayor de Blasio stop stalling on fair pay for Police Officers following one year of working without a contract
PBA President Patrick Lynch and union members gathered at City Hall on Wednesday for a press conference calling on de Blasio to do his job; part of renewed effort to hold de Blasio accountable for inaction  
Patrolmen's Benevolent Association of the City of New York (NYC PBA) today demanded that Mayor Bill de Blasio do his job and stop stalling New York City police officers' progress toward a market rate of pay.
August 1st marks exactly one year since the expiration of the NYC PBA's most recent contract, leading union members to turn out at City Hall to give Mayor de Blasio a "wake up call" to get engaged in the contract process. New York City police officers are already underpaid by 30% or more in comparison to the average for other police officers in the NYC area and other major cities around the country. Today's press conference is part of a renewed, multi-faceted campaign effort by the PBA to hold de Blasio accountable for his inaction.
PBA President Patrick J. Lynch said:
"Only seven months after starting his final term in office, and Mayor de Blasio is already checked out. We have been out of contract for a year and bargaining for even longer, and all we have seen from Mayor de Blasio's team are delaying tactics, unreasonable demands and a complete unwillingness to engage in the process. Underpaying police officers hurts our ability to retain and recruit the Finest, and ultimately has a negative impact on public safety. That should be a serious concern for our Mayor, but he is clearly not focused on running the city.  Instead, he's focused on raising money so that he can fly off to places like New Orleans and further his own political ambitions. That's not the job he was elected to do. New York City police officers show up and do our jobs every single day, because that's what New Yorkers expect of us. It's time for Mayor de Blasio to start doing the same."
The NYC PBA's most recent contract, which was retroactive to 2012, expired on August 1 of last year. In April, following months of increasingly unreasonable demands on the part of the City, the NYC PBA entered the arbitration process with the New York State Public Employment Relations Board (PERB).