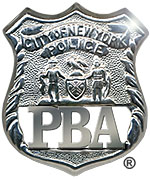 PRESS RELEASE
October 15, 2018
---
PBA announces endorsements in state legislative races
The Patrolmen's Benevolent Association of the City of New York (NYC PBA) today announced endorsements of 38 candidates for the New York State Senate and Assembly.
PBA President Patrick J. Lynch said:
"Public safety for all New Yorkers is a shared responsibility.  New York City police officers work hard every day to protect our city and our state, but we can't do it alone. We need the help of elected officials who understand the challenges we face.  Some of the candidates we are endorsing today have stood shoulder-to-shoulder with law enforcement for many years.  Some are new candidates who are committed to common-sense policies that will help us do our job successfully. All of them have pledged their support on many of the issues that are important to our union and its members, and they are willing to work with us towards our shared goal of a stronger, safer New York."
The union, which represents nearly 50,000 active and retired police officers, has endorsed the following candidates:
Assembly Member Stacey Pheffer Amato - 23rd Assembly District
Assembly Member Edward Braunstein - 26th Assembly District
Assembly Member Andrew Hevesi - 28th Assembly District
Assembly Member Brian Barnwell - 30th Assembly District
Assembly Member Aravella Simotas - 36th Assembly District
Assembly Member Michael Miller - 38th Assembly District
Assembly Member Ron Kim - 40th Assembly District
Steven Saperstein - 46th Assembly District
Assembly Member Peter Abbate - 49th Assembly District
Assembly Member Joe Lentol - 50th Assembly District
Assembly Member Jaime Williams - 59th Assembly District
Charles Fall - 61st Assembly District
Mike Reilly - 62nd Assembly District
Assembly Member Nicole Malliotakis - 64th Assembly District
Assembly Member Robert Rodriguez - 68th Assembly District
Assembly Member Nathalia Fernandez - 80th Assembly District
Assembly Member Kevin Byrne - 94th Assembly District


Senator Kenneth LaValle - 1st Senate District
Senator John Flanagan - 2nd Senate District
Dean Murray - 3rd Senate District
Senator Phil Boyle - 4th Senate District
Senator Carl Marcellino - 5th Senate District
Senator Kemp Hannon - 6th Senate District
Senator Elaine Phillips - 7th Senate District
Jeff Pravato - 8th Senate District
Senator Todd Kaminsky - 9th Senate District
Senator Joseph Addabbo - 15th Senate District
Senator Simcha Felder - 17th Senate District
Senator Martin Golden - 22nd Senate District
Senator Diane Savino - 23rd Senate District
Senator David Carlucci - 38th Senate District
Tom Basile - 39th Senate District
Senator Terrence Murphy - 40th Senate District
Senator Sue Serino - 41st Senate District
Ann Rabbitt - 42nd Senate District
Daphne Jordan - 43rd Senate District
Bob Antonacci - 50th Senate District
Senator Patrick M. Gallivan - 59th Senate District
Senator Tim Kennedy - 63rd Senate District
The NYC PBA also today announced its endorsement of Ron Castorina for Judge of the Surrogate's Court, Richmond County.
The union may announce additional endorsements in the coming weeks.