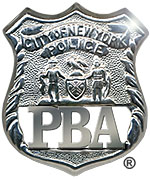 PRESS RELEASE
January 9, 2018
---
PBA President's statement on filing suit against the City for illegal and arbitrary release of police body cam video
PBA president Patrick J. Lynch said: 
"The basis of this suit is simple: we're suing to prevent the Mayor and the NYPD from arbitrarily and illegally releasing body camera footage. This footage has serious implications not only for the safety and due process rights of police officers, but for the privacy and rights of members of the public, as well.  The Mayor and the NYPD have shown a reckless disregard for these concerns by circumventing the existing process set up by the State Legislature and selectively releasing portions of videos to suit their own interests.  Nobody with a stake in these issues should be comfortable with this politicized, secret and unchecked process: not the district attorneys, not good government advocates, not the public, and certainly not police officers and their families whose personal safety is being placed at risk."
See Petition and Memo of Law.