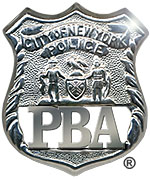 PRESS RELEASE
August 16, 2018
---
PBA launches digital ad campaign to highlight Mayor de Blasio's unprogressive hypocrisy on city worker pay
Social Media Ads, Targeted to Various Segments of New Yorkers Who Have Supported De Blasio, Show That He Is Worse for Workers Than Either Giuliani or Bloomberg
The Patrolmen's Benevolent Association of the City of New York (NYC PBA) today announced the launch of a digital ad campaign on social media to highlight Mayor de Blasio's hypocrisy when it comes to paying his own workforce, including police officers. The digital strategy is the most recent effort in the multi-faceted PBA campaign to hold de Blasio accountable for his inaction on offering New York City police officers a fair, market-rate contract.

PBA President Patrick J. Lynch said:
"Mayor de Blasio claims he has dedicated his second term to a supposedly progressive agenda of 'fairness', but that pledge doesn't extend to the workers who protect our city and keep it running. While he's busy with his only real priority — raising political cash so that he can fly around the country, pretending to be a great progressive hero — city employees are left struggling to make ends meet with raises that do not keep pace with inflation. Mayor de Blasio has been worse than either Mayors Giuliani or Bloomberg when it comes to paying city workers fairly. That kind of legacy certainly won't help him become a national progressive kingmaker. If he actually cares about 'fairness,' he needs to stop chasing his own political pipedreams and start focusing on the job he was elected to do."
The campaign, which launched this morning — featuring de Blasio in a plane proclaiming himself a progressive hero — will run for the next several weeks, and includes paid promotion on Facebook and Twitter targeted to New Yorkers who have been, in the past, some of the Mayor's closest allies and supporters. This will include ads on both social platforms that will feature prominently with users in the City Hall area, as well as some of de Blasio's former neighbors — and current YMCA workout partners — in Park Slope.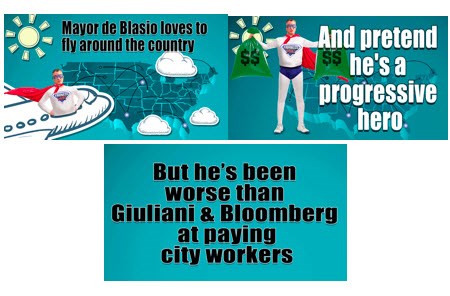 The NYC PBA's most recent contract, which was retroactive to 2012, expired on August 1 of last year. In April, following months of increasingly unreasonable demands on the part of the City, the NYC PBA entered the arbitration process with the New York State Public Employment Relations Board (PERB).