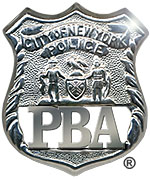 PRESS RELEASE
July 25, 2018
---
PBA Launches New Online Public Safety Tracker to Help New Yorkers Speak Up About Safety in Their Neighborhoods
Public Safety  Tracker  Highlights Key  Crime  Incidents  in  Context,  Alongside  Current Crime  Trends  and  Broader Policy Discussion
Website Available at pbasafetytracker.nyc
The Patrolmen's Benevolent Association of the City of New York (NYC PBA) today announced the launch of pbasafetytracker.nyc to help every New Yorker see how the safety of their neighborhoods is being impacted by the policing policies coming out of City Hall.  The website is part of the PBA's commitment to engaging New Yorkers in an honest conversation about the realities of crime and policing at the street level.
"Regular New Yorkers are our city's real public safety experts," said  PBA  President  Patrick  J.  Lynch. "They see what's happening on their own block. They read the paper and watch the news. They know the 'Safest Big City in America' doesn't feel that way on every street corner. Their policing agenda should be the only one that matters.  But too often, Mayor de Blasio and the City Council ignore the realities of individual communities and pursue a different agenda about how police officers should do their job. The PBA's Public Safety Tracker will provide our neighbors with the information they need to speak up and demand real safety policies from City leaders, not just press conferences with cherry-picked statistics."
The website offers New Yorkers a summary of notable serious crimes, along with precinct location, the type of public safety issue addressed, and the movement of relevant crime stats in both the borough and precinct.  The website also offers New Yorkers updated news stories to place recent criminal incidents in context of the ongoing policy debate in New York City. In addition, the website invites New Yorkers to share their thoughts about crime in their neighborhood or sign up to receive public safety news and updates from the PBA.

The Public Safety Tracker's crime incident data is collected on an ongoing basis from local news sources, and supplemented with the NYPD's published crime statistics as of the day of the report.