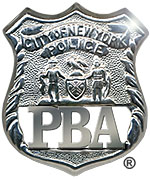 PRESS RELEASE
August 30, 2018
---
NYC PBA names widow and son of hero NYPD Officer Steven McDonald 2018 PBA Persons of the Year
Albany, NY—The NYC Patrolmen's Benevolent Association (PBA) today honored Patti Ann and Conor McDonald — the widow and the son of the late hero NYPD officer Steven McDonald — as the organization's 2018 Persons of the Year at its 124th annual convention.
PBA President Patrick J. Lynch presented the awards to Mrs. McDonald and Sgt. Conor McDonald — who followed in his father's footsteps by joining the NYPD — before hundreds of PBA delegates, other NYPD officers and officials, and dignitaries at a 12:30 luncheon at the convention site here, The Red Lion Hotel.
Steven McDonald, who died in January 2017 at the age of 59, was shot multiple times by a 15-year-old boy as he patrolled Central Park in July 1986, leaving him a quadriplegic. He outlasted expert medical prognoses and dedicated his years to spreading a message of hope and forgiveness, making him an inspiration to the city, the nation and the world.
"Patti Ann McDonald, who was pregnant with Conor when the shooting occurred, stood by Steven's side and supported him through challenges they could never have imagined when they were married a few months earlier," said Lynch. "Steven often credited her with giving him the will to live, so they could raise their son and he could spread his international message of peace and forgiveness.
"While serving as the foundation that Steven and Conor could lean on, she also found time to be elected mayor of their hometown of Malverne, NY, where she is serving in her 11th year," he added.
Conor McDonald, who became a police officer in 2010, was promoted to sergeant two years ago. "Conor's life has been indelibly colored NYPD blue," Lynch said. "Besides his hero father, his great-grandfather, grandfather and uncle were all police officers and NYPD members have been coming in and out of his house since the day he was born. Steven, Patti Ann and he all deserve great credit for the courage they have shown in encouraging him to continue in that fine tradition."
Previous recipients of the NYC PBA's Person of the Year include elected officials, journalists, law enforcement professionals, media personalities and benefactors. See the list below.
NYC PBA Person of the Year recipients
2001 – Governor George Pataki
2002 – Senator Charles Shumer
2003 – New York Secretary of State Randy Daniels
2004 – Radio personality Steve Malzberg
2005 – NY Daily News columnist Stanley Crouch
2006 – Attorney General Andrew Cuomo
2007 – Governor Eliot Spitzer
2008 – FBI spokesman John Miller
2009 – LA Police Chief William Bratton
2010 – State Senator John Sampson
2011 – Congressman Peter King
2012 – Assemblyman Peter Abbate Jr.
2013 – The Deceased Officers Parents Association
2014 – NYPD Employee Relations Section
2015 – Governor Andrew Cuomo
2016 – Milwaukee County Sheriff David A. Clarke Jr.
2017 – Jet Blue president and CEO Robin Hayes