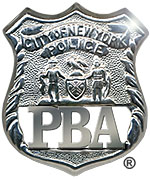 PRESS RELEASE
April 6, 2018
---
New PBA Radio Commercial Seeks the Public's Help in Keeping a Three-Time Convicted Cop Killer in Prison
The Patrolmen's Benevolent Association of the City of New York (NYC PBA) is seeking the public's support through a radio campaign where the union's President, Pat Lynch, asks the public to object to the release of cop-killer Herman Bell by clicking on the "Keep Cop Killers In Jail" icon on the PBA's website (nycpba.org.)  Doing so sends a letter objecting to the release of the cop-killer directly to the NY State Board of Parole.  The first spot airs Friday, April 6th.
The 60 second spot (mp3 attached,) voiced by Lynch himself, will run approximately 300 times over the next week on thirteen major radio stations including during Met's and Yankee's games.
The PBA has also sued the NY State Parole Board, on behalf of police widow Diane Piagentini, for failure to comply with the laws governing parole and has been granted a temporary restraining order against the release of Bell pending the outcome of the suit.
PBA President Patrick J. Lynch said: "We simply don't understand how a reasonable person can believe that a sadistic, cold-blooded killer who has been convicted of assassinating three police officers in two states, could ever deserve to be set free.  The judge who sentenced Bell when he was convicted made his intentions clear that Bell should remain in prison for life.  That's why we are doing everything possible to raise the public's awareness of this travesty of justice and asking for their support."
Here is the full text of the radio spot:
Hi, I'm PBA president, Pat Lynch.  This is a true story.  In 1971, two police officers answering a bogus call for help were ambushed from behind and shot by three gunmen.  Police officer Waverly Jones was shot and killed instantly and officer Joseph Piagentini was on the ground, seriously wounded.  They killed Joe with 20 more shots while he begged for his life for the sake of his wife and two baby daughters.  While on the run, these cowardly assassins killed a Sergeant in San Francisco.   A NY judge wanted to give these cold-blooded cop-killers, the death penalty.   But the law only allowed him to give them 25 years to life.  The PBA is fighting this terrible Parole Board decision  to release cop-killer Herman Bell.  His murdering pal and many other cop-killers will be up for parole soon.  NYC police officers need your help.  Visit nycpba.org and click on "Keep Cop Killers in Jail."  Tell the parole board that cop killers should never walk our neighborhood streets again.  That's nycpba.org.  Thank you.
Bell's original parole date was scheduled for April 17th.  His cop-killing partner, Anthony Bottom, comes up for parole in June.