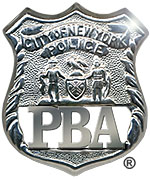 PRESS RELEASE
April 16, 2018
---
PBA statement on BuzzFeed's publication of illegally leaked police personnel records
PBA President Patrick J. Lynch said:
"BuzzFeed either doesn't realize or doesn't care how their 'database' of illegally leaked police personnel records will be used. They are creating the perfect tool for unstable individuals with a grudge against cops to identify and go after police officers and their families. If BuzzFeed's reporters can use this information to harass police officers in their front yards, you can bet that individuals with even worse intentions will be able do the same. Police officers are already the target of retaliatory attacks, including the attempted mail bomb attack on an NYPD member last year, without this additional assistance from the press. These records should never have been illegally released in the first place, and the Police Commissioner and NYPD leadership bear the greatest responsibility to enforce the law and protect the safety and privacy of their own employees. They need to immediately identify the source of the leak and hold those responsible accountable."
 Also see attached letters from the PBA to BuzzFeed, the NYC Conflicts of Interest Board and Police Commissioner James O'Neill regarding the publication of these illegally leaked personnel records.