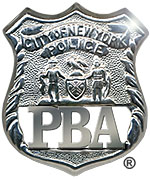 PRESS RELEASE
July 3, 2018
---
PBA statement on appellate panel injunction against release of NYPD body-worn camera footage
The PBA has won another in a series of legal victories in its suit to stop the NYPD from illegally and arbitrarily releasing footage from police officers' body-worn cameras.
Today, a New York State Supreme Court Appellate Division, 1st Department panel granted the PBA's request for an injunction blocking the NYPD from releasing additional body-worn camera footage. The injunction extends the existing temporary restraining order for the duration of the PBA's appeal. The panel is scheduled hear arguments in the appeal in November 2018.

PBA President Patrick J. Lynch said:
"We are grateful that the appellate panel recognized that police officers' rights and safety need to remain protected while it weighs the important issues raised in our suit. The NYPD's illegal and arbitrary release of body-worn camera footage should be unacceptable to anybody who is interested in privacy, transparency or even basic fairness. We look forward to making that case when our full appeal is heard."