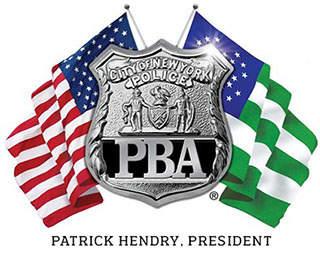 PRESS RELEASE
August 7, 2018
---
Police widows whose husbands were murdered by parolees call for changes in parole system to deny parole for cop-killers
PO Cecil F. Sledge and PO Thomas P. Ruotolo were both gunned down while on duty by career criminals who were out of prison on parole. PO Sledge's murderer, Salvatore Desarno, who shot the officer, backed over him with his car and dragged the officer for blocks, is up for parole next month. PO Ruotolo's murderer, George Agosto, becomes eligible for parole in 2023. The officers' widows, Linda Sledge and Mary Beth Ruotolo-O'Neill, were joined by a contingent of police widows as they call for changes to the parole guidelines that would ensure that no cop-killers are ever released on parole.
PBA President Patrick J. Lynch said: 
"There has been a major change in the Parole Board's decision-making policy that has allowed cold-blooded cop-killers to con the system into being released. These murderers need only concoct a phony story that is tailor-made for the new parole guidelines, pretend to be sorry for their crime and the Parole Board unlocks the cell door. A cop-killer simply has to say 'I did it and I'm sorry' and out you go free to kill again just like Desarno, Agosto have. The nature of the crime, regardless of how inhumane and heinous it was, no longer matters when a parole panel considers releasing a killer, any killer, and that's an outrage.  The PBA is working with legislators to pass a law that will close the giant loophole in existing guidelines that are letting murderous monsters return to our streets."
Mrs. Linda Sledge said: 
"It is appalling that a man who was a known, dangerous criminal was out on parole when he murdered my husband. Cecil was a wonderful man, a loving father and a great and proud police officer. It is difficult for me to even imagine how any right-thinking person could consider for a second letting Sal Desarno back onto our streets where he will most certainly return to a life of crime and violence. This horrible man denied me and my two children of wonderful husband and loving father. Had he committed this crime today, he would have been given life without parole which is the only appropriate sentence absent a death penalty. We no longer hear the words accountability or punishment used regarding murderers in prison. But accountability and punishment are and should always be part of the sentence." 
Mary Beth Ruotolo-O'Neill said: 
"My husband, Tommy was a funny, bright and beautiful man. He had a master's degree in social sciences and asked to be assigned to the 41 precinct where he could put that education to use for the good of the community. He loved being a cop and he loved the people in the 41. But in doing so, he encountered career criminal, George Agosto, who had stolen a moped. When confronted by Tommy and his partner, Agosto murdered my husband, shot and wounded his partner and also shot an off-duty officer who was on the scene. This was not his first kill. He murdered my husband while out on parole. This is exactly the kind of revolving door justice that puts criminals on to our streets only to victimize and kill again. It sickens and worries me that the harshest penalty this cop-killer could get was 25 years to life with eligibility for parole. We must close this parole loophole that let's cop-killers out of prison because cop-killers should never be allowed to walk our streets again."
Background on the Crimes
PO Cecil Sledge, 35, was a 12-year veteran officer who left behind a wife, a 3½-year-old son and 9-month-old daughter.  He was murdered on 1/28/80 during a car stop of a man just released from jail on parole who he was aware should not be driving.  The killer, Sal Desarno, shot PO Sledge as he approached the car and then backed the car over him.  The officer was dragged by the car for several blocks. 
PO Thomas Ruotolo, 30, had been a police officer for 3 years when on 2/14/1984, he was shot and killed by George Agosto, 24, a career criminal, who was on parole for manslaughter. Ruotolo and his partner were responding to a radio call of a stolen moped when they spotted a suspect fitting the description putting gas in a moped at a gas station. Seeing the officers approaching, Agosto opened fire on PO Ruotolo, killing him at the scene and wounding partner, PO Tanya Brathwaite, 23, who fired a shot at Agosto before falling to the ground with a bullet wound to the back.  Off-duty PO Hippolito Padilla, 38, who was nearby using a pay phone when the shooting started, also fired five shots at the perp and was shot once in the abdomen. Agosto, who used a dozen aliases during his criminal career which started at the age of 16, was later arrested at Lincoln Hospital, the same hospital where the three officers were taken, with gunshot wounds to the head, right hand and right chest.  Police Officers Brathwaite and Padilla both recovered from their wounds.
# # #The Police Benevolent Association of the City of New York (PBA) is the largest municipal police union in the nation and represents nearly 50,000 active and retired NYC police officers.