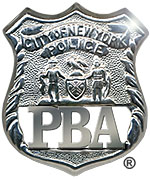 PRESS RELEASE
June 10, 2019
---
Borough President Adams and Council Members call for equal benefits for NYPD officers who served as cadets
BROOKLYN, NY, June 10, 2019: Today, New York City Police Department (NYPD) officers who served in the Department's Cadet Corps program held a press conference calling on Mayor Bill de Blasio and Council Speaker Corey Johnson to support a State law correcting a mistake by the City that denied them credit for their cadet service. The former cadets were joined on the steps of City Hall by Brooklyn Borough President Eric L. Adams, as well as Council Members Justin Brannan; Robert E. Cornegy, Jr.; Mathieu Eugene; Francisco Moya, and Keith Powers. The NYPD Cadet Corps — a police apprenticeship program — was created as a career pathway for New York City-resident students to begin an NYPD career while still in college. However, certain NYPD cadets who served prior to 2012 were wrongfully denied the right to join the New York City Employees Retirement System (NYCERS) as a result of the City's misinterpretation of the existing law.
"It's a matter of fairness for New York's Finest," said Borough President Adams. "The City's self-acknowledged error is unacceptable, and we have a moral obligation to make this right. This diverse group of hard-working women and men come from and represent the communities they have kept safe for nearly ten years. Thanks to my local colleagues in government who join me in this call, and I also applaud State Senator Andrew Gounardes and Assembly Member Peter Abbate for carrying legislation on this matter in Albany."
"Some 300 officers who started out in the Cadet Corps program — many who are now proud sergeants and lieutenants — are getting a raw deal," said Council Member Brannan. "Thanks to a bureaucratic snafu, these officers have been wrongfully denied access to their rightful Tier 2 status in the pension system. Is this how we thank them for putting their lives on the line for us every single day? These brave men and women leave no one behind. Now it's our turn to do the same. I stand ready to work with my colleagues to right this wrong. Let's get this done."
"The NYPD cadets and officers put their lives on the line for us every day," said Council Member Cornegy. "We should all support their efforts to secure a better future for themselves and their families. I'm calling on my colleagues in government to join me pushing for passage of a home rule for the cadet pension bill."
 "We promised to look after the futures of the brave men and women who put their tomorrows on the line for us every day," said Council Member Moya. "Unfortunately, and through no fault of their own, their futures are less secure simply because of an administrative misunderstanding that denied them the pension credits they should have earned while training as a cadet. This is not complicated and neither is the solution. New York must keep its word to the Finest and right this error immediately."
"When these officers signed up to serve their communities as career members of the NYPD, they were promised the same benefits as the officers who served before them — a promise we as a City have yet to fulfill," said Council Member Powers. "For nearly a decade these officers, who began their careers in the Cadet Corps, have worked tirelessly to keep our neighborhoods safe, and it's well past time the City awards them the benefits they deserve for those years of service. I'm proud to join my colleagues in calling for passage of a home rule message for the cadet pension bill up in Albany right now."
As a result of the City's mistake, about 300 NYPD officers are precluded from accruing pension credits for their service as cadets, and those who were hired prior to the State's pension changes in July of 2009 lost out on the opportunity to join the pension system under Tier 2. Even after the City reversed its position in 2012 to allow cadets hired since then to join the pension system, those hired before were left out. Because of the City's error, they are stuck with the diminished benefits of Tier 3. State Senator Gounardes and Assembly Member Abbate are the lead sponsors on S.5903/A.7620, legislation that would allow these impacted officers to receive credit for their service in the Cadet Corps. Borough President Adams and Council Members Brannan, Cornegy, Eugene, Moya, and Powers support passage of a City Council home rule message on this bill.
"This is a matter of basic fairness," said Police Benevolent Association (PBA) President Patrick J. Lynch. "These roughly 300 NYPD members made an early commitment to their police career, because they wanted to serve their own communities and protect the neighborhoods they came from. They upheld their end of the bargain, but the City's error has deprived them of benefits they have earned and deserve. We thank Borough President Adams and Council Members Brannan, Cornegy, Eugene, Powers and Moya for standing in support of common-sense legislation to correct this inequity. It's time for Speaker Johnson and Mayor de Blasio to take action to fix the mistake and honor the City's commitment to these members and the NYPD Cadet Corps."
"It's a simple principle: NYPD officers are owed pension credit for all their years of service, including as members of the Cadet Corps," said State Senator Gounardes. "This bill rights past wrongs by providing NYPD officers who served as cadets before 2012 the benefits they would be given if they started today. Our bill also ensures that all NYPD officers who start in the Cadet Corps — past, present and future — receive the pensions they deserve for all their years of serving and protecting us."