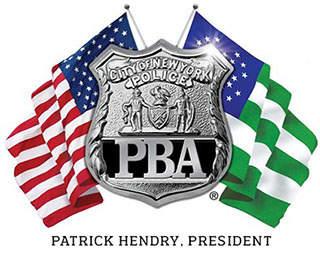 PRESS RELEASE
April 24, 2019
---
816,725 letters opposing the parole of cop-killers were hand delivered by hundreds of Police Officers and Police Widows
More than three hundred and sixty boxes containing 816,725 letters opposing the parole of incarcerated cop-killers were hand-delivered to the Albany offices of the NY State Department of Corrections and Community Supervision (DOCCS) Parole Board at noon today.  Nearly 400 NYC Police Officers and several dozen widows of Police Officers killed in the line of duty traveled to the State's capital in a convoy of ten buses.  The letters are a portion of those that the Parole Board would have received via email had they not secretly stopped accepting parole opposition letters submitted via the PBA's website in 2014.
The PBA recently learned that DOCCS had secretly stopped accepting or reviewing the email submissions from the "Keep Cop-Killers in Jail" tool on PBA's website, which allowed the public to send a letter directly to the board opposing the parole of one or all killers of New York City police officers.  The unilateral termination of the service came to light when a police widow inquired about the status of the letters that were sent in opposition to the parole of her husband's killer who was seeking parole
PBA President Patrick J. Lynch said: 
"We have learned that DOCCS' Parole Board is staffed primarily by pro-criminal advocates whose main mission is to spring prisoners, regardless of the severity of their crimes, from state-funded jails.  To accomplish this misguided and despicable goal, Parole Commissioners have ignored the recommendations of sentencing judges, who would have handed down a no-parole sentence if the law at the time allowed them to do so.  In other instances, Parole Commissioners have pre-judged parole requests prior to hearing the victim's impact statements of the survivors of these cold-blooded cop killings.
"It is no surprise to us that there is a total lack of interest by the board in the concerns and opinions of the public at large and the police officers who risk their lives in the protection of this City.  We will not be silenced or ignored. The PBA will ensure that every single letter generated via our website is delivered to the board."
# # #The Police Benevolent Association of the City of New York (PBA) is the largest municipal police union in the nation and represents nearly 50,000 active and retired NYC police officers.