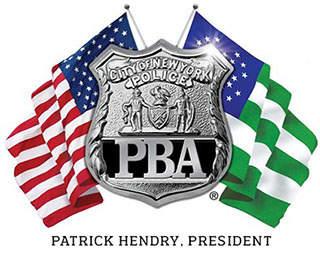 PRESS RELEASE
June 12, 2019
---
PBA unites behind Lynch again for sixth term
Entire PBA Executive Board unopposed for new four-year term
PBA President Patrick J. Lynch and the entire PBA Executive Board were re-elected without any opposition this month, making Lynch the longest-serving president of the modern PBA, as well as the longest-tenured leader of any major New York City municipal union.
PBA President Patrick J. Lynch said:
"We are proud and honored that 24,000 PBA members from every precinct and command in this city have once again chosen us as 'the defenders of the defenders.' Our union solidarity is critical, because the environment we face is more challenging today than ever before. When nobody else will speak up on behalf of New York City police officers, the PBA will. When activists, politicians and the media try to divide us and tear down all that is good and noble about our profession, the PBA will fight back. And when elected officials take credit for our hard work and success in protecting all New Yorkers, then turn around and mistreat the cops on the street, the PBA will hold them to account. We will continue to fight for fair compensation for our members, who are currently paid up to 30% less than other law enforcement officers with whom we work side by side on our city's streets. We will never apologize for our staunch defense of New York City police officers and their rights — our members deserve it, and so do the communities we protect. It has been an honor for us to lead this fight for the past 20 years, and we are proud to carry it forward into the future."
Lynch was first elected PBA president in 1999, defeating the incumbent administration while still serving as a precinct-level delegate in the 90th Precinct in Brooklyn. He is the longest-serving PBA president since the union obtained its bargaining certificate in 1963.
The new term for the PBA Executive Board will begin automatically on July 1, 2019.
# # #The Police Benevolent Association of the City of New York (PBA) is the largest municipal police union in the nation and represents nearly 50,000 active and retired NYC police officers.