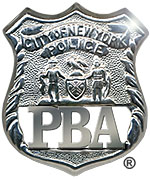 PRESS RELEASE
May 14, 2019
---
Lynch: CCRB training witness will be refuted
CCRB ignoring judge's ruling, continues to argue rulebook violations
During the second day of P.O. Daniel Pantaleo's NYPD disciplinary trial, CCRB attorneys relied on the testimony of Inspector Richard Dee in a failed attempt to prove that P.O. Pantaleo was not trained in the use of the "seatbelt takedown" maneuver.
Inspector Dee testified that the maneuver was not listed on Pantaleo's training transcript. However, he conceded that he did not conduct or directly observe Pantaleo's tactical training. Later in the trial, Pantaleo's attorneys will call Pantaleo's training sergeant as a witness, who will confirm that he taught Pantaleo the seatbelt takedown.
Neither Inspector Dee nor the other CCRB witness called today provided any evidence of the criminal conduct that the presiding judge has ruled CCRB must prove in the case. Last week, NYPD Deputy Commissioner for Trials Rosemarie Maldonado determined that alleged NYPD Patrol Guide violations cannot be the sole basis for a disciplinary decision against P.O. Pantaleo, because CCRB failed to serve the charges until after the statute of limitations had expired. 
PBA President Patrick J. Lynch said: 
"These CCRB prosecutors are tying themselves in knots to prove a case that the judge has already said is not enough. If you want to know whether a police officer was trained in a certain technique, you should talk to the person who actually trained him.  P.O. Pantaleo's attorneys will do just that later in the trial. But CCRB knows full well that it is wasting everyone's time by scrounging for evidence to suggest P.O. Pantaleo committed a rulebook infraction. They know that he did not commit any crime, and that he should be cleared of all charges against him."