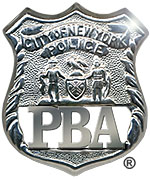 PRESS RELEASE
June 5, 2019
---
Experts: Pantaleo used NYPD-approved tactics; Garner died of heart disease, not chokehold.
During the sixth day of testimony in P.O. Daniel Pantaleo's NYPD disciplinary trial, two defense witnesses refuted the central elements of CCRB's case by demonstrating that Pantaleo did not use a chokehold or other prohibited maneuver in the arrest of Eric Garner, and that Pantaleo's actions did not cause Garner's death.
Retired Sgt. Russell Jung, the former Police Academy instructor who conducted Pantaleo's tactical training, testified that Pantaleo used a "seatbelt takedown" maneuver during the arrest of Eric Garner that was approved for use by NYPD members at the time of the incident. Sgt. Jung also refuted the earlier testimony of CCRB witness Insp. Richard Dee — who is a Police Academy administrator, not a hands-on instructor — by testifying that Pantaleo was justified in moving in to arrest Garner when he did, as prolonging the confrontation could have resulted in the need for an even greater use of force to bring the situation under control.
Dr. Michael Graham, Chief Medical Examiner for the City of St. Louis, MO, directly refuted the conclusions of the City's Medical Examiner, testifying that Garner did not die from any of the causes of death listed on the autopsy report. Dr. Graham instead testified that Garner died from heart disease aggravated by the physical exertion of resisting arrest. Dr. Graham noted that Garner remained conscious and was able to speak for the duration of the incident. Dr. Graham also stated that the restraint of Garner had nothing to do with his death.
PBA President Patrick J. Lynch said: 
"The facts presented today demolished the CCRB's fictions and sent their attorneys scrambling to save face. A former NYPD Academy instructor with decades of hands-on experience training police officers — including P.O. Pantaleo — confirmed that P.O. Pantaleo used only NYPD-approved tactics to effect the arrest.  A veteran big city medical examiner exposed the City's autopsy report as a scientifically worthless and politically motivated document that gets the cause of Garner's death all wrong.  There is no other way to spin this testimony.  If the evidence in this case is not polluted with politics, then P.O. Pantaleo should be cleared of all charges."