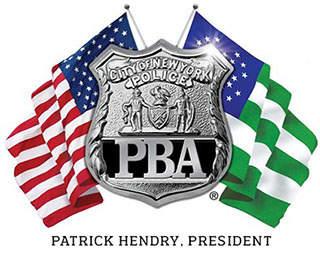 John Nuthall, 212-298-9187
Jake Sporn, 516-946-5253
Chris Coffey, 917-972-7514
PRESS RELEASE
May 16, 2019
---
Statement from PBA President Lynch on Mayor de Blasio's Presidential Run
New York, NY -- "It is laughable that a mayor who has shown no interest in running New York City for six years now says he wants to mismanage the entire country.
While the mayor of our nation's largest city is busy running around Iowa and getting upstaged by the mayor of South Bend, Indiana, there are real problems here at home. New York City Police officers are continuing to suffer with wages 30% below market rate because the mayor has totally checked out of our contract process. 
After six years of disrespect for the police officers who keep our city safe, it's perfectly clear how the mayor treats men and women in uniform. As commander-in-chief, he would be an unmitigated disaster.
New York deserves better and the country deserves better."
# # #The Police Benevolent Association of the City of New York (PBA) is the largest municipal police union in the nation and represents nearly 50,000 active and retired NYC police officers.