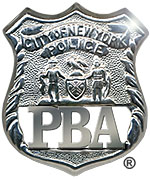 PRESS RELEASE
October 17, 2019
---
NYC PBA testimony opposing repeal of Police Personnel records protection
The NYC PBA today submitted the attached testimony to the New York State Senate Committee on Codes regarding S.3695, which would repeal NYC Civil Rights Law Section 50-a provisions protecting the personnel records of police officers, firefighters, and correctional officers.
PBA President Patrick J. Lynch said:
"The advocates are intentionally misleading lawmakers about the nature of Civil Rights Law Section 50-a. Far from being the 'most regressive' law of its kind in the nation, it is on par with 23 states plus the District of Columbia that protect these records from public disclosure under most circumstances.
"Additionally, the many agencies charged with overseeing the actions of police officers including district attorneys and civilian review boards, to name just two, have full and complete access to personnel records.
"The law was created for two reasons that are as valid today as they were when it was signed into law.  First, to prevent unscrupulous defense attorneys from abusing access to those records in order to win acquittals for criminals who prey on the public. Second, the law protects the personnel records of police officers in order to prevent criminals from identifying and locating those officers in order to extract revenge for their arrest.
"Both reasons are in the public's best interest. We don't want criminals escaping justice through court room trickery nor can we expect police officers to risk their lives without at least a minimal amount of personal protection for them.  Amending or repealing the law will have devastating effects on public safety and on the safety of all law enforcement officers throughout New York State."