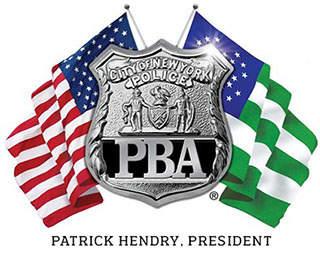 PRESS RELEASE
November 3, 2019
---
PBA Blasts CCRB for Politicking on Records Law Repeal
In advance of the Civilian Complaint Review Board's planned meeting to adopt a formal position on repeal of Civil Rights Law Section 50-a, the NYC PBA has put the board on notice that such action would violate both the City Charter and city conflict of interest rules. 
In a letter sent last week to CCRB Chairman Rev. Frederick Davie (attached here), PBA President Patrick J. Lynch demanded that Davie and CCRB cease their improper political advocacy for repeal of the law that protects police officers' confidential personnel records, noting that Davie's public statements on the issue are at odds with the de Blasio administration's official position.
Lynch said: "Every sane New Yorker is wondering what is going on in this city. We have vicious anti-police anarchy in the streets and government institutions going completely rogue. CCRB Chairman Fred Davie is running the board like his personal political machine, shredding every law that is meant to ensure CCRB's fairness and impartiality. Even Mayor de Blasio can't keep up with Davie and his anti-cop comrades. They need to be stopped."
Read Letter: 20191103-pr-ccrb-improper-political-engagement.pdf
# # #The Police Benevolent Association of the City of New York (PBA) is the largest municipal police union in the nation and represents nearly 50,000 active and retired NYC police officers.