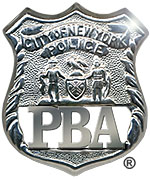 PRESS RELEASE
March 25, 2019
---
New PBA Precinct Posters Call Attention to Council Members' Positions on Police Pay Equity
After an unprecedented super-majority of New York City Council Members came together last week to demand a fair market wage for New York City police officers, the PBA has launched a new campaign to make sure its members know which Council Members are standing with them in this fight.
Beginning today, the PBA will distribute posters (see samples below) to be displayed on union bulletin boards in every NYPD precinct, transit district and Housing police service area across the five boroughs, calling on PBA members to thank the Council Members for their support.
So far, 41 Council Members have signed letters calling on Mayor de Blasio to pay police officers a salary on par with their counterparts in other local police agencies, whose salaries are upwards of 30 percent more. 
Several Council Members also joined nearly 300 police officers on the steps of City Hall last week to demand police pay equity, so that the women and men who keep NYC safe do not have to work a second job to put food on their family's table.
Precinct posters will also be on display in the districts of the Council Members who failed to support market-rate pay for New York's Finest. In addition, a social media campaign will accompany the precinct-level efforts.
PBA President Patrick J. Lynch said:
"We are grateful that the overwhelming majority of City Council Members understand that our City cannot continue to recruit or retain the finest police officers while paying them a drastically lower salary than any other police department in this area. These 41 Council Members had the courage to stand up and demand police pay equity because it is in the best interests of their constituents and the entire city.  They deserve to be recognized for their efforts, and police officers deserve to know which elected officials are willing to back them up.  On the other hand, PBA members also need to know which Council Members are refusing to stand with the women and men who protect their district.  If any of them come to understand the importance of pay equity, we will welcome their support.  But until then, they can join Mayor de Blasio on the wrong side of this issue, out of step with their colleagues, and out of touch with the best interests of the New Yorkers who elected them."