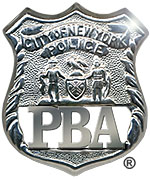 PRESS RELEASE
February 17, 2020
---
Cop-killer denied parole, but gets new bid in just nine months
The New York State Board of Parole this month denied parole for Tommy Nelson, killer of New York City Police Officer Anthony Abruzzo. But that denial may be short-lived, as Nelson is due to receive another parole hearing in November 2020.
PBA President Patrick J. Lynch said: 
"We're glad that this vicious cop-killer will stay behind bars for the time being. But frankly, we have zero faith that the Parole Board will do the right thing when he comes back up for parole in November. After all, this is the same disgraceful Parole Board that let out Bronx cop-shooter Robert Williams after he had already tried to kill police officers once. The Parole Board needs to be completely dismantled and rebuilt from scratch, so that it cannot keep playing these games with the families of our fallen heroes and the safety of all New Yorkers."
Robert Mehran, brother-in-law of P.O. Anthony Abruzzo, said: 
"This murderer was sentenced to life in jail, but he has made a joke out of it by continuing his life of crime behind bars. There is absolutely no reason he should ever have the opportunity to get out. It's innocent people who are suffering for the failures of our criminal justice system. Giving parole hearings to a killer like Nelson does more to hurt families like ours than to serve the interests of justice."
The Parole Board denied Nelson's latest bid for freedom following a "special consideration" hearing awarded after he appealed his November 2018 parole denial. Nelson received the new hearing on appeal despite the fact that he has been a disciplinary problem in prison, with 23 citations for infractions over the course of his incarceration.
Nelson will appear before the Parole Board again for his regularly-scheduled parole hearing in November 2020. While state law requires the Parole Board to grant parole-eligible inmates a new hearing at least every two years, it does not set a minimum time period that inmates must wait before receiving a new hearing.
P.O. Anthony Abruzzo, 34, was shot and killed while off-duty when he attempted to stop Nelson and two other men from robbing his father-in-law, Joseph Mehran, in front of Mehran's home on December 16, 1981. He was a 13-year veteran of the NYPD assigned to the 109th Pct.