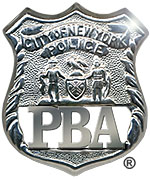 PRESS RELEASE
April 6, 2020
---
Cops Continue Salute to Medical Workers at Montefiore Medical Center in the Bronx
"Different Uniforms, Same Mission" say police union members as they provide food and moral support to nurses, doctors and staff fighting the COVID-19 pandemic.
With applause and sirens blaring on their police vehicles, several dozen New York City police officers turned out at Montefiore Medical Center this morning to deliver more than a 1,000 fresh sandwiches, beverages and other food items to Montefiore's nurses, doctors and hospital staff. The Police Benevolent Association (PBA) and the Lieutenants Benevolent Association (LBA) organized the donation to show gratitude for their fellow frontline professionals at the Bronx hospital, which serves an area with a high number of COVID-19 cases.
PBA President Patrick J. Lynch said:
"Police officers and hospital staff always work as a team to protect New Yorkers. That is especially true at Montefiore Medical Center under Dr. Phillip Ozuah's outstanding leadership. But we aren't just partners in the ER – some of us are also partners at home. Many of these healthcare professionals have a wife or husband who is out on the streets in an NYPD uniform. This crisis is twice as challenging and twice as dangerous for these front line families. We will get through it the way we always do, by supporting each other and backing each other up." 
LBA President Lou Turco said:
"We wanted to highlight the courage of the nurses, doctors and staff at Montefiore, who show up every day to work long hours and risk their own health to save lives. We want them to know that we are here for them, the way they have always been there for us. Their strength, skill and commitment will get our city through this crisis. Our job is to make sure they can do their job." 
The PBA and LBA worked with Panico's Community Market in Smithtown, LI — long-time supporters of veterans and first responders — to prepare and deliver more than 1,000 freshly-made sandwiches and other food items to Montefiore Medical Center for distribution to on-duty hospital staff.