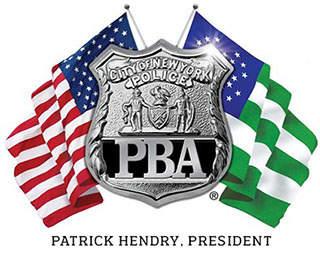 PRESS RELEASE
May 1, 2020
---
Cops Make Special Lunch Delivery to Elmhurst Hospital
The healthcare heroes at Elmhurst Hospital took a much-needed lunch break today to the sound of police sirens and the cheers of dozens of cops, who were there to deliver food and moral support to their fellow "frontline family" members battling the COVID-19 pandemic.
Watch the PBA-recorded video.
PBA President Patrick J. Lynch said:
"The entire world is in awe of the courage and strength of the nurses, doctors and staff at Elmhurst Hospital. That's no surprise to New York City police officers, because we work alongside these heroes 365 days a year. They have taken care of us in some of our most difficult moments. Now it's our turn to back them up."
Panico's Community Market in Smithtown, NY once again helped prepare more than 750 sandwiches for the hospital staff. Over the past month, the PBA has delivered more than 4,000 sandwiches and hundreds of cases of fresh fruit and water to hospitals across New York City.
# # #The Police Benevolent Association of the City of New York (PBA) is the largest municipal police union in the nation and represents nearly 50,000 active and retired NYC police officers.