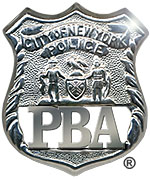 PRESS RELEASE
April 14, 2020
---
Cops make special delivery at Jacobi Medical Center to salute heroic hospital staff
Police union members continue to lift spirits of by bringing food and moral support to frontline medical workers across the city.
Today, as sirens blared and a crowd of dozens of New York police officers applauded, Jacobi Medical Center's nurses, doctors and staff took a brief break from their lifesaving efforts to be recognized by their "frontline family" in blue. Members of the Police Benevolent Association delivered hundreds of sandwiches and other food items to show their appreciation for the hospital staff's courage and skill in fighting the deadly COVID-19 pandemic.
PBA President Patrick J. Lynch said:
"As police officers, we know how important it is for those on the front lines of a crisis to keep up their strength and spirits. The staff at Jacobi Medical Center has been there for us on some of our darkest days. When we wait for news on an injured police officer, they are always right there with us, offering us a place to sit, a bite to eat or a cup of coffee. We're here to show them that same kind of support as we work together to protect our city."
Panico's Community Market in Smithtown, NY helped with the preparation and delivery of more than 700 sandwiches, continuing their longstanding support for first responders and veterans in our area.