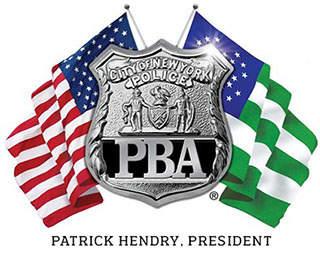 PRESS RELEASE
March 20, 2020
---
New PBA radio ad: 'Frontline Families' deserve protection and respect
The Police Benevolent Association of the City of New York (NYC PBA) is airing a new radio commercial (listen here) on dozens of local stations starting today, reminding New York City leaders of the burdens and risks faced by the families of police officers and other frontline workers during the COVID-19 pandemic.
PBA President Patrick J. Lynch said:
"We're still battling City Hall and 1 Police Plaza for adequate supplies of equipment and the policies we need to protect our members. It's important for our leaders to remember that we aren't the only ones at risk. Our families are in harm's way, too. Our husbands and wives and daughters and sons didn't pick this job, but they share our sacrifice. They deserve respect. But, above all, they deserve to be protected."
Last week, the PBA filed a complaint with state health and safety regulators over the NYPD's failure to provide adequate protective equipment or cleaning and sanitizing supplies to police officers. While the NYPD provided some additional equipment and supplies following the filing of the complaint, many police officers report that they still have not received adequate supplies of N95 respirator masks, or that cleaning and sanitizing supplies in their commands remain inadequate. The PBA's health and safety complaint, and other concerns regarding exposure protocols, remain pending.
---
Text of the radio commercial: "I'm PBA President Pat Lynch. Right now, police officers, healthcare workers and other essential employees are heading to work. We can't stay home. Our mission comes first. We have to protect you on the front lines of a global health crisis. And we're not just battling the virus. We're still fighting crime, responding to emergencies and keeping our city running. Yes, these are the jobs we signed up for. But we aren't the only ones who sacrifice. Our families are sacrificing along with us, and they bear the greatest burden. They support us through long hours and uncertain schedules. They share our stress and fatigue. And if we're exposed to the virus at work, they could be exposed, too. So when you think about the cops and other frontline workers who are still on the job and at risk, remember we aren't alone. Our families are on the front lines, too. They deserve all of our respect."
# # #The Police Benevolent Association of the City of New York (PBA) is the largest municipal police union in the nation and represents nearly 50,000 active and retired NYC police officers.