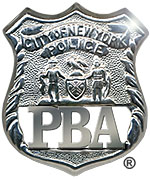 PRESS RELEASE
June 9, 2020
---
NYC PBA Leads Coalition of 21 Law Enforcement Unions Condemning Anti-Police Environment
PBA President Patrick J. Lynch presided over a fiery press conference today in which he and officials from 20 other unions — representing more than 200,000 law enforcement officers from across the state —  condemned the nationwide attack on police officers and their rights.
"We, as professionals, are under assault," said Lynch, surrounded by more than 200 police and correction officers. "And this in a backdrop of a night when we had seven shootings (in Brooklyn) in seven minutes."
Watch full video of press conference.
Speakers
Patrick J. Lynch, President, Police Benevolent Association of the City of New York
Richard Wells, President, Police Conference of New York
Michael O'Meara, President, New York State Association of PBAs
Elias Husamudeen, President, NYC Correction Officers Benevolent Association
Organizations Represented
NYC Detectives' Endowment Association
Sergeants' Benevolent Association
Lieutenants' Benevolent Association
Captains' Endowment Association
Correction Officers' Benevolent Association
Port Authority PBA
MTA PBA
Nassau County PBA
Nassau Detectives Association
Suffolk County PBA
Suffolk Superior Officers Association
New Rochelle Superior Officers Association
Westchester County Corrections Officers Benevolent Association
New York State Troopers' Police Benevolent Association
New York State Association of PBAs
Police Conference of New York
Police Benevolent Association of NYS
New York State Union of Police Associations
New York State Correctional Officers and Police Benevolent Association
New York State Court Officers