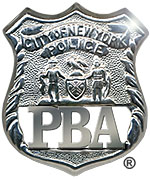 PRESS RELEASE
October 28, 2020
---
NYC police labor launches online petition drive, Times Square billboard campaign
NYC police labor launches online petition drive, Times Square billboard campaign. Shootings in NYC almost double over last year, NY residents live in fear.
"There is a better way."
It was a New York City weekend few citizens will forget. Within forty-eight hours over two nights, twenty-four New Yorkers were shot, one fatally.
So far this year, nearly sixteen hundred citizens have been hit by gunfire. By the same time in 2019, seven-hundred-sixty-seven had been shot.
Things are moving in the wrong direction and a coalition of NYC police unions are launching an online citizens' petition drive — anchored by a Times Square video billboard (watch video here)  — to force politicians to take action to stop rising New York City violence. 
The petition website, needtotalk.nyc, reminds New Yorkers that "(T)twenty years of progress are slipping away. New York City led the nation in reducing crime, protecting citizens and tourists…. We can stop the politicians. We can save New York; It all begins with the letters N.Y.P.D."
The website notes that as a result of the passage of laws undercutting police — reductions in police strength by the City Council, passage of a law outlawing reasonable and legal force in affecting a lawful arrests — the politicians are responsible for violent crime increases.
"New York City used to be safe," website text reads. "Then the politicians took over. What did they do? Disbanded anti-gun units, slashed the NYPD budget, cut cops and drove our most experienced police officers to retire in record numbers."
"Don't blame the cops. Blame the politicians."
The union coalition is promoting the petition on a video billboard in Times Square that shows images of recent crimes and violence in NYC with the demand "Make NYC Safe Again." Citizens viewing the billboard are asked to sign the petition demanding New York City leaders act aggressively and to work with police— not against them — to stop crime increases not seen for many years.
The petition website also features an on-camera interview with Eve Hendricks, a mother whose 17-year honor student son was killed in the Bronx when a shooter sprayed bullets into a crowd of party attendees.
This online petition drive comes after, say police labor organization leaders, "politicians were warned this would happen. They think their plan is working. It's not."
In fact, as the website notes, murderers are up 34.1 per cent, shootings up 90.2 per cent, burglaries up almost 42 per cent and there are now nearly double as many shooting victims as were counted the same time last year.
Needtotalk.NYC will be followed by other activities to ramp up public pressure to force elected officials to take actions restoring NYPD resources and repealing recently passed laws that hamper effective police crime fighting abilities.