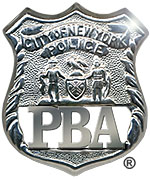 PRESS RELEASE
January 17, 2020
---
Felon-friendly Parole Board speeds up cop-killers' bids for freedom
The families of murdered New York City Police Officers Anthony Abruzzo and Harry Ryman will appear separately before the New York State Board of Parole today to deliver victim impact statements opposing the parole of their loved ones' killers. The families' painful pilgrimage comes sooner than expected, as the Parole Board has awarded three of the cop-killers involved with new hearings ahead of schedule.
PBA President Patrick J. Lynch said:
"The out-of-control Parole Board is torturing these hero families who have already sacrificed so much. It was bad enough that they had to go through the process every two years.  Now, they're being forced to reopen their wounds every few months, and killers are still being turned loose. The Parole Board is a disgrace, but their conduct should come as no surprise to anybody who has seen the headlines in recent weeks. Pro-criminal advocates have hijacked our state. They want to see every crime victim paralyzed and praying for justice, while every vicious criminal is free to roam the streets."
Robert Mehran, brother-in-law of P.O. Anthony Abruzzo, said:
"Our family is furious that this murderer gets an additional hearing, even though he has continued his life of crime behind bars. My sister was sentenced to a lifetime without her husband. She has no opportunity to appeal that sentence. The original judge in the case made it clear that he would have given the death penalty if he could have.  As long as this vicious killer is alive, he hasn't served his full sentence."
Margaret Ryman, daughter of P.O. Harry Ryman, said:
"As family members of a murdered New York City police officer, we have deep concerns over the increasing number of cop-killers being released on parole. How as a society can we even fathom awarding freedom to those who not only break our laws but also murder the very people we put in charge of enforcing them? Granting parole to a cop-killer is a blatant insult to every officer who puts on a uniform. With the governor restoring voting rights for parolees, pushing through bail reform and his drive to continue closing jails, one has to wonder if he's so focused on politics that he's actually jeopardizing the public. This releasing of convicted killers, especially cop-killers, should truly alarm the public."
P.O. Abruzzo's family will be appearing to oppose the parole of Tommy Nelson, who was last denied parole in November 2018. Last month, the Parole Board agreed to give Nelson a new "special consideration" hearing, despite his having been cited 23 times for prison disciplinary infractions over the course of his incarceration.
P.O. Ryman's family is opposing the parole of Barrington Young and Paul Ford, who will appear before the board in February, and Cornelius Bucknor, who will appear before the board in April.
When sentencing all three defendants in P.O. Ryman's murder to the then-maximum of 25 years to life in prison, State Supreme Court Justice James G. Starkey opined that "it is my feeling that the maximum sentence authorized by law at this point … is not sufficient to do justice." The New York State Crimes Against Police Act of 2005 made life without parole the top sentence for convicted cop-killers, but cop-killers sentenced prior to 2005 remain eligible for parole.
Both Young and Ford's parole hearings have been moved up from their typical August date. The Parole Board did not provide the Ryman family with any explanation for the change in schedule. While state law requires the Parole Board to grant parole-eligible inmates a new hearing at least every two years, it does not set a minimum time period that inmates must wait before receiving a new hearing.
P.O. Anthony Abruzzo, 34, was shot and killed while off-duty when he attempted to stop Nelson and two other men from robbing his father-in-law, Joseph Mehran, in front of Mehran's home on December 16, 1981.  He was a 13-year veteran of the NYPD assigned to the 109th Pct.
P.O.  Harry Ryman, 43, was shot and killed while off-duty when he attempted to stop Young, Ford and Bucknor from stealing his neighbor's car. He was assigned to the 60th Pct. and had 17 years on the job.