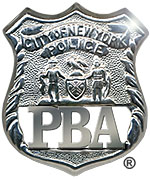 PRESS RELEASE
May 20, 2020
---
Front Line Solidarity: PBA Distributes Hand Sanitizer to Essential Commuters in Queens
Dozens of PBA members turned out to show solidarity with their fellow essential workers by distributing hand sanitizer during the morning rush today at the Sutphin/Archer subway station and LIRR's Jamaica Station in Queens.
PBA President Patrick J. Lynch said:
"New York City police officers have been on the streets and in our transit system every day during this crisis, but we haven't been alone. Our fellow essential employees are right here with us, taking trains, subways and buses to fight the virus, support our families and keep our city running. By working together to stop the spread at this strategic location – where Long Island Railroad commuters meet subway and bus commuters from Queens, Brooklyn and Manhattan – we're not only protecting each other. We're protecting the communities we all serve."
The PBA distributed more than 1,000 bottles of sanitizer that were generously donated by A.J. Khubani of BulbHead.com with the assistance of John McDermott of Laidlaw Blue LLC.